The Ultimate Guide to Sofa Fabrics & Upholstery Material
By Jessica Earley
September 28, 2021
Do you love lounging in front of the TV or curled up with a good book? Or is hosting parties more your style? Either way, choosing the right sofa will make or break how you enjoy your living room!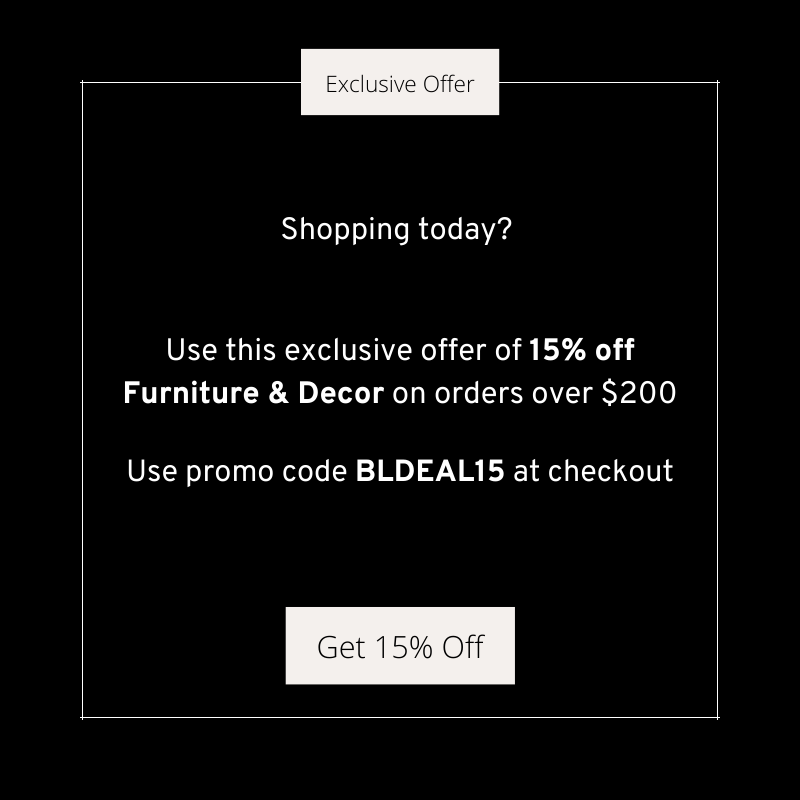 When searching for a new sofa or sectional, one of the most important (and most overlooked) characteristics to pay attention to is the upholstery material. Your new couch may look gorgeous in the living room, but if the fabric or material can't stand up to daily wear and tear, you might be regretting your purchase in a few months.
Before you shop for this essential living room centerpiece, here's everything you need to know about common upholstery materials so you can find the best fabric for your sofa!
What is Upholstery Material?
Without upholstery, your furniture is just a frame. The stuffing, padding, springs, foam, and cushions that make up the rest of your furniture is the upholstery.
Much of the durability, comfort, and longevity of your furniture starts with your upholstery fabric choice. While you do have the opportunity to reupholster old, damaged, or worn-out furniture, the cost can add up—so it's essential to choose the right fabric the first time.
Types of Sofa Fabrics and Materials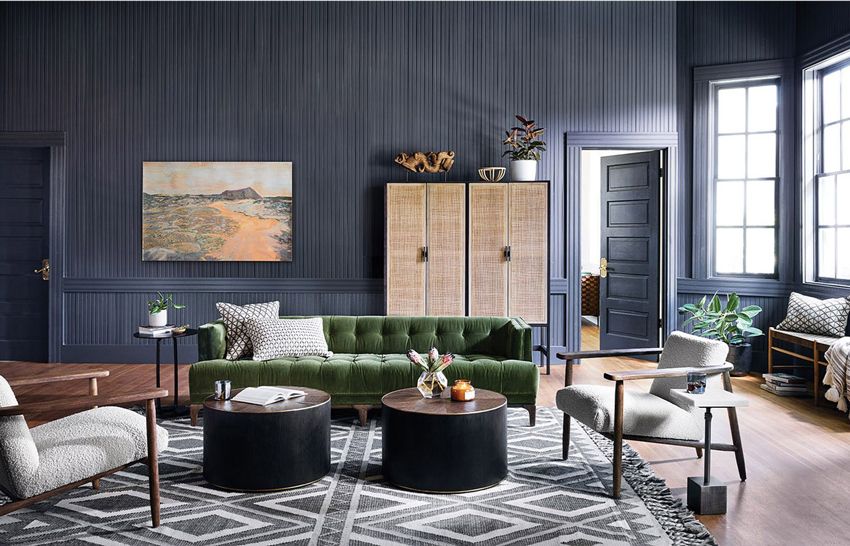 Couch materials are typically sorted into one of two categories: synthetic or natural. This article includes a third category for high performance fabrics. Keep in mind that most synthetic and natural fabrics are blended with other materials—you're unlikely to find pure cotton or pure nylon material. Additionally, the type of weave or leather grade can affect how durable the material is.
Looking for high-quality fabric that resists fading and staining? Synthetic fabrics are a good option! Synthetics can be used by themselves or blended with other synthetic or natural fibers—making them super versatile in both style and function.
Often, you'll find more durable options in synthetic materials than their natural counterparts. Some blends of synthetic and natural fibers are called performance fabrics, which we will explain in detail later on. To start, let's take a closer look at the different options in synthetic materials.
Love the look of cotton or silk but want something a little more durable? Viscose rayon might meet your needs! Like other types of rayon you'll commonly find in clothing, viscose rayon is considered a semi-synthetic fabric because it is derived from natural materials like wood pulp.
To make viscose rayon, cellulose (found naturally in the cell walls of plants) is treated with chemicals to transform it into long, durable strands for weaving. Keep in mind that viscose rayon is often blended with other materials.
✅ Durable
✅ Soft
✅ Affordable alternative to silk
❌ Prone to wrinkling
❌ Shows spots and stains easily
✅ Resistant to fading, wrinkling, and snags
✅ Strong and stretchy
✅ Easy to clean
✅ Releases water-based stains
✅ Holds shape well
When you hear nylon, you might automatically picture the long, sheer stockings. But nylon fabric has so many other uses—from umbrellas to socks to couches! Nylon uses a chemical process to transform plastic into durable, elastic fibers that can be stretched into nearly any length. With sofas, you'll often find nylon mixed with other fibers to create durable, timeless styles.
✅ Lightweight yet strong
✅ Resistant to snags
✅ Easy to clean
✅ Resists wrinkles
✅ Cost-effective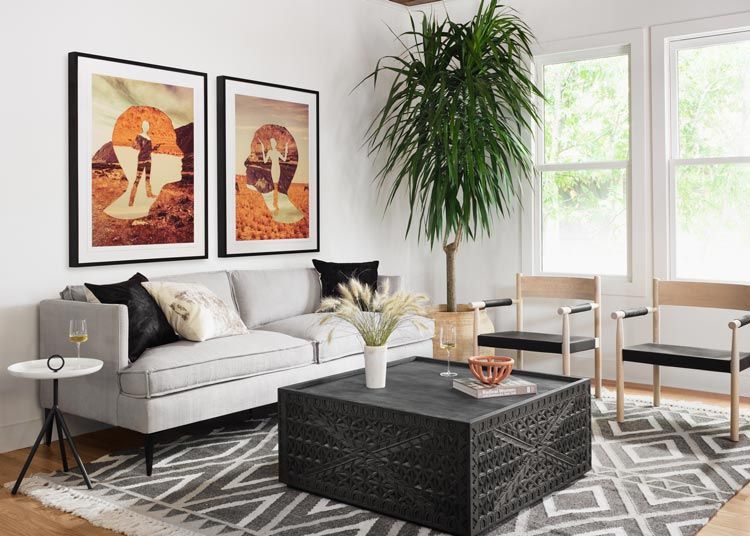 Love that velvety-soft feel? We do too! Velvet makes anything a statement piece—from your clothes to your furniture! Of course, true luxury velvet is made entirely from silk and can be very expensive. But most velvet today is made from a mix of rayon and silk or cotton.
The process for making velvet is more complicated than most other fabrics. Essentially, the thickness of two fabrics are woven together simultaneously and then cut apart to make a soft, piled fabric.
❌ Requires a professional solvent for cleaning
✅ Marks or bruising happens over time, adding character
✅ Has richer, more vibrant colors
✅ Durable and doesn't snag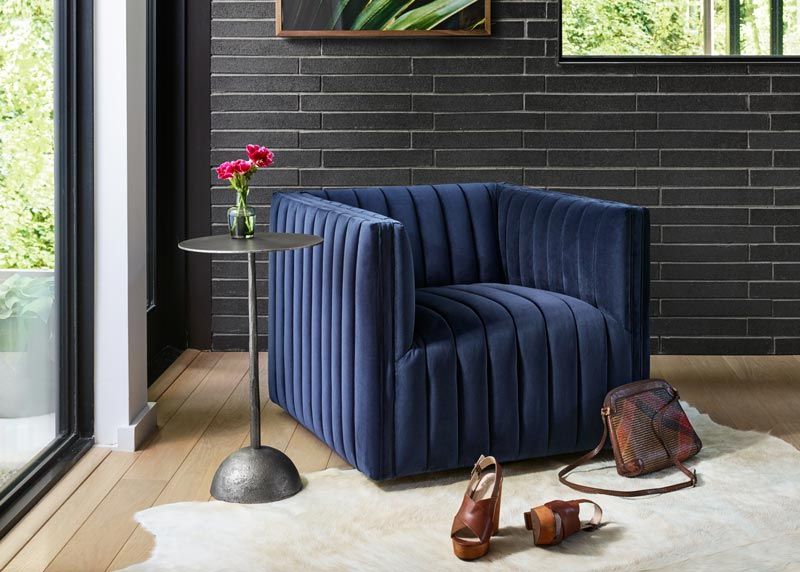 Natural Fabrics & Materials
Timeless style, comfort, and durability await you in the world of natural sofa fabrics! Often considered more luxurious and less durable than their synthetic counterparts, natural materials offer unique versatility and style that synthetic materials don't provide.
If easy maintenance and significant durability are on your checklist, natural materials have options for that—plus, you can find natural-synthetic blends that combine the benefits of both materials.
✅ Easy to clean and maintain
✅ Resistant to water and other spills
✅ Allergen resistant
✅ Durable under normal wear and tear
❌ Susceptible to punctures and scratches from pet claws and sharp objects
❌ Can feel sticky with heat and humidity
One important thing about shopping for leather furniture is knowing what grade of leather it is. Here are the four types of leather grades you'll find.
Full Grain Leather—This is the most popular and highest-quality grain of leather. It has a luxurious, soft surface that isn't sanded or polished to remove the leather imperfections that give your couch character. The grain has not been removed, making it more durable and long-lasting. Over time, it develops a patina—a thin, natural coating that protects it from wear and tear.
Top Grain Leather—More common than full grain leather, top grain leather is thinner and more pliable because the top grain layer has been removed to give it a more even finish. It usually has a finish coat on top to protect it from damage and make it more stain resistant. It's also much less expensive.
Genuine Leather—Contrary to what you might think, calling a fabric genuine leather doesn't speak to the quality or authenticity of the leather. Instead, this material is produced from pieces of leftover leather after making higher-quality leather. This is one of the more popular and least expensive varieties you'll find in most homes.
Corrected Grain Leather—This type of leather is carefully worked over by leather workers to improve aesthetic and functional qualities. It usually has an artificial grain that is dyed and worked to make it look like higher-quality leather. The advantage of corrected grain is that they can make changes in the color to match style needs. It's readily available and the most affordable leather option.
✅ Wrinkle resistant
❌ Needs professionally cleaned
❌ Shows wear and tear faster
❌ Expensive
❌ Fades under sunlight
❌Water stains are difficult to remove
If you're looking for a statement piece and you're ok with a little more maintenance, silk is the sofa fabric for you! Spun from the natural fibers produced by silkworms and other bugs, silk fabric is one of the most luxurious options for your sofa. You can't find any fabric that's softer, shinier, or more lush than silk—but what you get in style, you sacrifice in durability.
Silk is still strong, but it's more likely to snag than most other upholstery materials. It's not suited for high amounts of use and is probably better in rooms used for special occasions than every day lounging around.
When it comes to softness and overall comfort, cotton has no competition! It's so soft but extremely durable, which is why it's used for so many other things outside of sofa upholstery. Cotton fibers are easy to dye and weave, so you can find cotton in a countless array of colors and patterns.
Similar to leather, cotton sofas become softer with use—but it doesn't last as long as leather will. Cotton is also really easy to blend with other fabrics so you can have more durability with the same versatility.
✅ Fade resistant
✅ Tighter weaves make it stronger
✅Can be chemically treated to add stain resistance
❌ Stains and wrinkles easily
Linen has similar qualities to cotton but is more loosely woven to create a distinct texture. Linen is spun from the fibers of the flax plant—a plant that has been cultivated for making fabric for nearly 6,0000 years!
Linen is stronger than cotton, but can be dyed and woven into countless patterns just like cotton. It can also stain and wrinkle easily, so we recommend finding a performance linen which is better at holding up in high traffic areas like the family living room.
✅ Resistant to pilling
✅ Often used for slipcovers, which can be easily dry cleaned
✅ Certain blends are machine washable
✅ Wicks away moisture
✅ Resistant to fading
❌ Wrinkles easily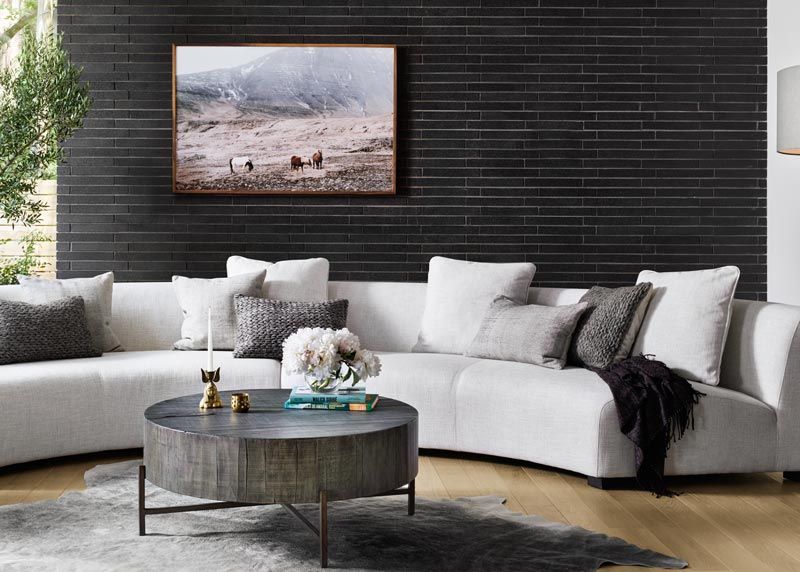 Need fabric that truly stands the test of time and holds up to spilled dinners, rambunctious children, or household pets? High performance fabrics take durability and longevity to the next level.
Many of these high performance fabrics were developed to withstand the harsh conditions that outdoor patio furniture endures. But throughout development, manufacturers found ways to use these blends of natural and synthetic fibers for indoor furniture too. The result? Fabrics that stay pristine under extreme amounts of wear and tear with unique features like water resistance, mildew resistance, UV protections, antibacterial properties, and more! Let's take a dive into the details of high performance fabrics.
Looking for a fabric that's a little out of this world? Crypton has everything you're looking for! It's one of the most unique and durable sofa fabrics on the market today.
Made with a blend of cotton, polyester, and rayon, Crypton uses a patented technology to encase the fabric fibers and make them resistant to water, mildew, and fading. It's top feature? It resists microbe growth and can even be sanitized with Crypton's exclusive fabric disinfectant!
✅ Water resistant
✅ Mildew resistant
✅ Stain resistant
✅ Microbe resistant
✅ Odor resistant
✅ Easy to clean
✅ Can be disinfected
✅ Recyclable material
✅Breathable
Looking for the ultimate in durability and style? Olefin is at the top of our list! While it's often used in outdoor furniture materials, it's also a great investment for indoor couches.
Olefin is made from plastic compounds like polypropylene that are spun into long, flexible threads before being woven into fabric. One of the best parts about olefin is that it's water resistant, making it a great choice for families with kids and pets.
✅ Water resistant
✅ Fade resistant
✅ Often uses recycled plastics
✅ Removable covers are machine washable
✅ Easily maintained with spot cleaning
❌ Can have a rough and scratchy surface
✅ Water resistant
✅ Mildew resistant
✅ Fade resistant
✅ Stain resistant
✅ Eco-friendly
❌ Scratchier, rougher texture
❌ Expensive
Originally developed for patio shades and umbrellas, Sunbrella fabric took the outdoor world by storm! It's durability and UV resistant properties have made it great for outdoor use, but now you can find it used indoors as well. This acrylic fabric has a unique feature that keeps it from fading.
While other materials are dyed with specified colors and patterns after they are weaved into a fabric, Sunbrella dyes it's fibers before weaving begins. This means the color becomes part of the fabric itself, rather than sitting closer to the surface of the fabric where it can fade with use.
Familiar with the diamond pattern you see when you look closely at your denim jeans? That's twill! Twill weave is similar to plain weave, except instead of going over or under just one warp thread, the waft threads go over or under two or more warp threads. The result is a diamond pattern rather than a checkered one. The great thing about weaving with twill is that it has a higher thread count and hides stains better than plain weave.
✅ Has back and front orientation
✅ Unique, durable surface texture
✅ Hides spills and stains
✅ Recovers well from wrinkles
❌ Tends to pill
❌ Expensive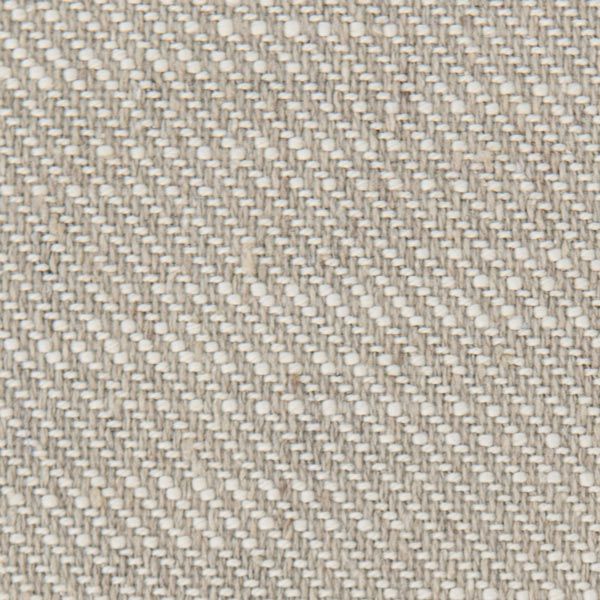 Satin weave was originally only used for making silk, but today it is used when making polyester or rayon, too. Satin weave depends on long, continuous fibers to add strength to the weave.
Like plain and twill, satin is woven in an over, under pattern—but it is threaded through five or more waft threads at a time. This creates a fabric that has no distinguishable pattern and creates a shiny and dull side once it's finished. Satin woven fabrics are more pliable than other weaves allowing them to drape beautifully.
✅ Much softer than other fabrics
✅ It has a shiny front
✅ Wrinkle resistant
❌ Snags easily
What Will You Choose?
With so many options in fabrics, weaves, colors, and textures out there, how will you ever choose a fabric for your new sofa? Now that you've read all about them, you've got to go out there and try them out! Find a place where you sit on and feel all the fabrics and styles you're thinking about.
And if online shopping is more your style, you can order fabric swatches to compare fabrics and see how they match your existing decor. Any way you look at things, we're sure you'll find a material and a sofa to fit all your needs!