How to Choose the Best Pet-Friendly Sofas and Sectionals
To some, owning a pet is one of life's greatest joys. But we also know that owning a pet comes with some extra work, like making sure you have pet-friendly furniture. Luckily for you, you don't have to compromise your furniture because you own a pet. You can still have great furniture that you love and have it be pet-friendly so that you can cuddle up with your pet on the couch.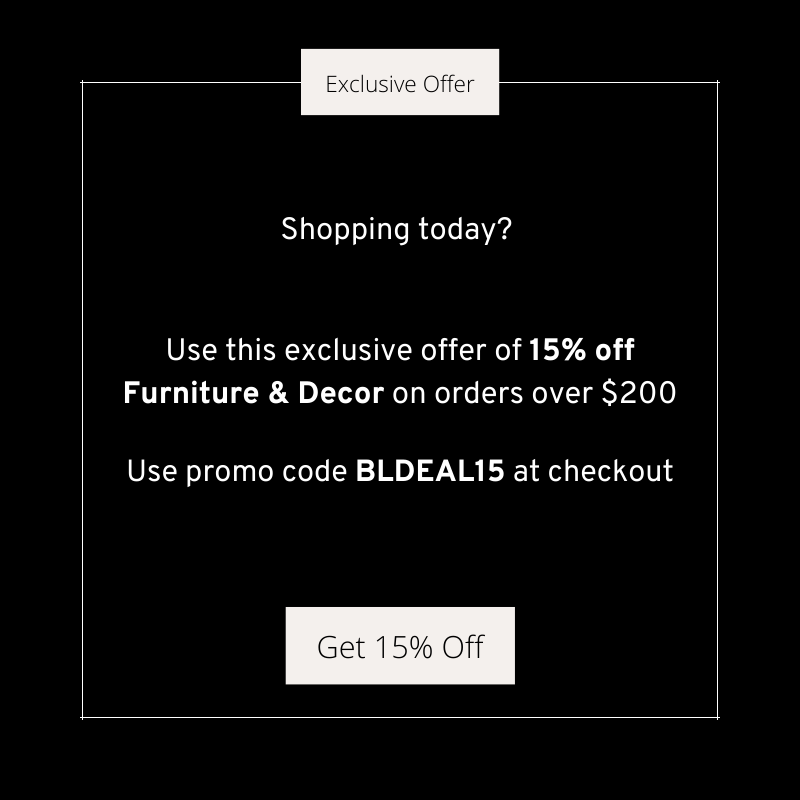 We want to be your resource in finding pet-friendly couches and what that means—everything from stain and scratch resistance to ideal fabrics and more. Our Vevano Home expert designers shared with us their top tips for having pet-friendly sofas and sectionals that are just as stylish as they are practical.
What to Look for in a Pet-Friendly Couch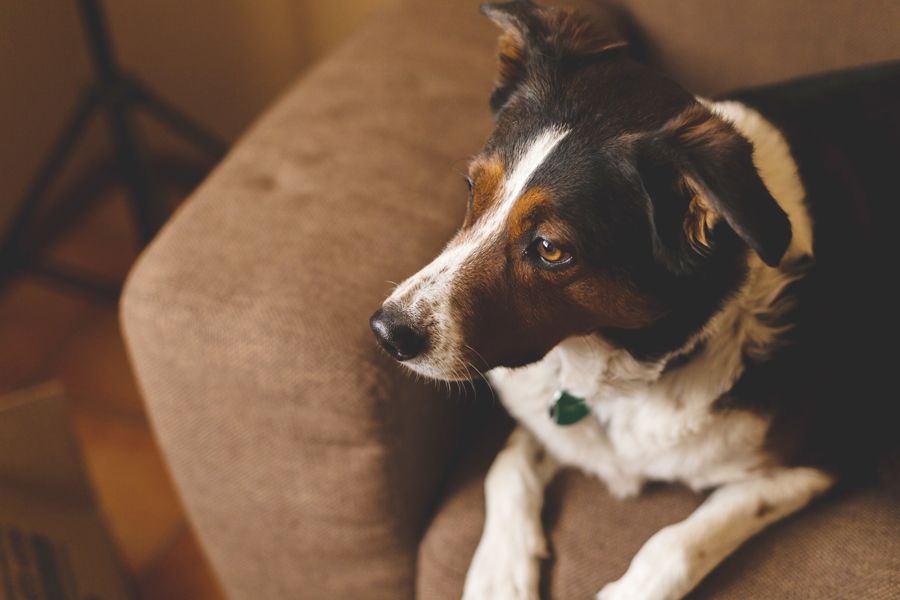 To get started, we'll discuss what makes a sofa or sectional pet-friendly, then go more in-depth on what each of them means. You will want to keep in mind several characteristics as you shop for a pet-friendly sofa.
Scratch-Resistant—Because of pets' claws and nails, one of the first things you'll want to pay attention to when selecting pet-friendly couch material is that it is scratch resistant. Some materials allow you to erase blemishes completely, but others are not as generous.
Easy to Remove Pet Hair—Although several pets out there don't shed, chances are that your pet will shed some hair or fur on your furniture. For this reason, you'll want a fabric with tight weaves (or no weave at all!) that don't hold onto animal hair and are easy to clean. Additionally, the style of the couch may also affect how easy it is to remove pet hair.
Stain Resistant—Because pets are often dirty, they could transfer their dirt to your sofa. If they are primarily an outdoor pet, their paws could get your sofa dirty and leave stains. Pets' saliva can also be a contributing factor to getting your sofa dirty. Because of all this, you will want to select a couch that is stain resistant or at least easier to clean.
The Best Materials for Pet-Friendly Couches
Now that we've covered a few of the characteristics that you'll want to keep in mind, we will list some of the best materials. Some materials are great for odor resistance, some for scratch resistance. Keep your specific pet in mind because the best material for you may differ from someone with different needs based on their pet. There are pros and cons to each material, so you'll need to decide what's best for you and your pet.
Most interior designers will say that leather, surprisingly, is one of the best materials for pet-friendly furniture. Your pet's claws won't snag on the material, and the surface is smooth and wipeable, making it easy to clean off pet hair and other dirt. Even if your pet does scratch the leather surface, it can add to the aged, distressed aesthetic frequently associated with leather couches. You can also easily buff out any scratches with leather oil or conditioner. For maximum durability and resistance to scratches, opt for top grain leather.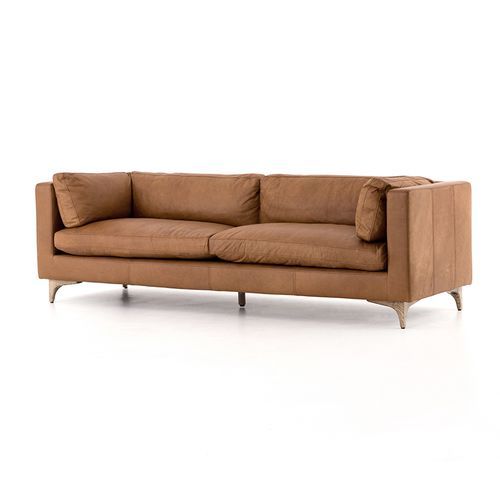 "Leather is very easy to clean when it comes to pets. It won't hold onto smells and odors, making it completely odor resistant. Some people are worried that their pet's claws will scratch or puncture the leather. However, if it is a true leather—not recycled or faux leather— a dog's nails or cat's claws aren't strong enough to puncture it."
—Andrea, Vevano Home Designer
Performance fabrics like Crypton, Olefin, and Sunbrella are engineered to be incredibly durable and easy to clean. Of these performance fabrics, we highly recommend Crypton for its high resistance to scratches, stains (including oil-based spills), bacteria, and odors—the perfect pet-friendly combination. Though incredibly durable, Crypton still feels soft and comfortable like other fabrics. It also comes in various colors and patterns, so you don't have to style for function.
Olefin and Sunbrella are typically used for outdoor furniture but can be used indoors if you're looking for material that's exceptionally resistant to wear and tear. Olefin might be a better indoor pet-friendly option because it's more scratch-resistant, softer to the touch, and doesn't transmit static charges like Sunbrella.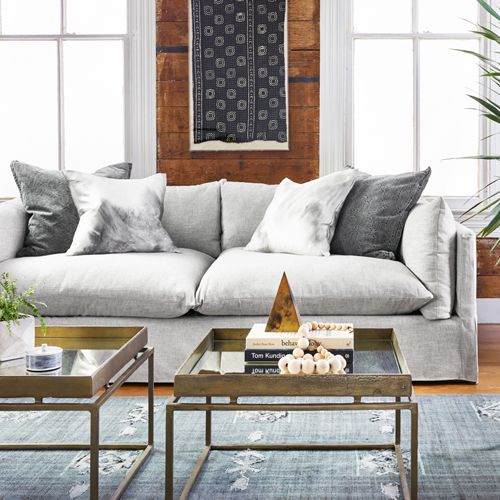 "This Four Hands sofa uses Crypton, a type of performance fabric with incredibly durable qualities that are perfect for homes with pets or children. The material repels liquids before they even soak in, so any spills sit on top of the fabric and can be easily wiped up with a paper towel, leaving no leftover residue or stains. This sofa is also slipcovered and can be removed for even easier cleaning."
—Madi, Vevano Home Designer
Velvet is an excellent choice for stylish, pet-friendly furniture, though with a few caveats. The material tends to attract pet hair, but because velvet doesn't have a weave, the fur is easy to remove from the surface. Additionally, the lack of a weave means your pet's claws are unlikely to snag on the surface. High-quality polyester velvet is stain-resistant and more durable than other sofa fabrics, but velvet generally requires more maintenance than leather and some other fabrics
"Most people are surprised to find out that Velvet is one of the most pet-friendly fabrics! Because the thread isn't woven into a pattern, pet hair stays on top and easily lifts with a lint roller. It also can be easily spot-cleaned with water and a microfiber towel."
—Madi, Vevano Home Designer
Over the last decade, microfiber has become a popular material because its synthetic material is excellent for stain resistance. It's also difficult for liquids to seep into the surface, making it an easy-to-clean fabric. Though not quite as soft as velvet, Microfiber is still a soft fabric and is comfortable for a sofa. In addition, your pet's claws are less likely to snag on Microfiber's tight weave, and the material's smooth service is easy to vacuum and remove pet hair.
Pet-Friendly Sofa Style Tips
The sofa's material isn't the only important consideration when buying pet-friendly furniture. The style of your sofa can also affect how easy it is to clean or hide any pet fur and messes. Below, we've outlined a few style suggestions that can make your sofa or sectional more pet-friendly.
Pick Colors & Textures that Hide Animal Hair
If it works with your room's design and color scheme, try to find sofa materials that match the color of your animal's fur. That way, the sofa can better conceal any pet shedding that occurs between cleanings. You can also find fabric materials with twill or textured weaves, which can help hide hair or stains better than fabrics with smooth, simple weaves like linen.
Opt for a Slipcover Sofa
Slipcovered sofas are a great choice because whenever your sofa gets dirty, you can simply remove the couch cover and toss it in the washing machine. With minimal effort and time, your sofa will feel fresh and look new. If you have hard-to-remove stains that won't come out of your slipcover, you can simply replace it with a new one.
Consider a Skirted Design
If your dog can't resist gnawing wood furnishings, consider buying a sofa with either metal legs or a skirted design. The skirted design also protects any balls and other pet toys from sliding under the couch. You don't want your dog pawing at and scratching the floor to try to get to a toy under the sofa!
Pet-Proofing Tips
Now that you know all the information about pet-friendly furniture, we'll share with you a few last tips on how to pet-proof your furniture:
Use a protectant like Scotchgard to repel water and other stains
Buy a slipcover for your couch
Regularly brush and groom your pet to cut down on shedding
Regularly cut your pet's nails
Pair your pet-friendly couch with pet-friendly ottomans and pet beds to deter them from curling up on your sofas and sectionals
Try Before You Buy—Order Fabric Samples
Most importantly, you'll want to make sure that you select a sofa that both you and your pet will love. Before commiting to a new sofa, consider ordering fabric and material samples to test durability and see which textures and colors will work best in your home. Call our Vevano Home Design Consultants at 855-483-2629 or fill out our contact form to order fabric samples and find the perfect sofa or sectional for your home.