Featured Design Project: Replacing Chris's Waterlogged Kitchen
Water damage is never convenient, especially when it devastates an entire room in your home. It's important to address water damage as soon as possible to prevent further structural damage. At the same time, it can feel overwhelming to know where to start—especially if addressing the damage means replacing your whole kitchen!
Chris H. found himself in this exact scenario after an unexpected rainstorm and severe water damage left him in need of a brand new kitchen. Thankfully, with the help of Andrea, a Vevano Home designer, he was able to design and replace his waterlogged kitchen with one that he loved even more than the last.
Here's how Vevano Home helped bring a client's water-damaged kitchen from "construction zone" to modern elegance.
Before
Chris was redoing his roof when it happened: rain. Though he lived in California in the middle of a drought, the day it finally did rain was the day his roof was gone, leaving his kitchen completely exposed to the weather.
Chris's kitchen suffered severe water damage, where everything—from the ceiling to the cabinets and down to the floors—needed to be replaced entirely. His kitchen was in dire need of an update, but the time and energy it would take to find and replace all the cabinets, flooring, backsplash, lighting, and more was daunting, to say the least.
At the same time, Chris thought the less-than-ideal situation could be turned into an opportunity to create an even better kitchen than the one before. But to do all those things—design a new kitchen and find all the products—took time (and expertise) that Chris didn't necessarily have. Simply put, he needed help, so he contacted Vevano Home.
What the Client Was Looking For
Chris worked with Vevano Home Interior Designer Andrea to design and rebuild his kitchen. At the beginning of the project, Chris explained the three things that were most important to him:
Budget - As with most people working on a massive home project, the cost was at the forefront of Chris's mind. Although he wanted a quality kitchen renovation, he also wanted to make sure it fell within the budget provided by his home insurance payout.
Timeliness - A timely update was also essential to Chris because water damage can spread, leading to mold and other structural damage that could cost even more to fix. Chris was also tired of living in a construction zone—he just wanted to get his kitchen up and running again. Everyone needs a functioning kitchen in their home!
More Space - If he was replacing his whole kitchen anyway, why not add a bit more functionality to it? Chris desired more countertop and prep space than he previously had. He decided to add a kitchen island, which would provide more counter space and storage while also creating a casual dining option for his kitchen.
The Design Process
At first, Chris wasn't sure about what kind of style he wanted for his new kitchen. To help him along, Andrea presented a few different concept boards and ideas.
With the help of Andrea's 3D renderings and product images, Chris could visualize his brand new kitchen and identify the styles and colors he wanted. He eventually decided on a sleek and modern design for his new kitchen.
"My favorite part was getting my hands on his measurements and making it into a 3D rendering so that we could accurately plan out the kitchen and figure out what was the most functional for him and his needs." — Andrea, Designer on this Project
With Chris's desired aesthetic in mind, Andrea suggested the Shaker Gray cabinet style. "The Shaker Gray cabinets have a very modern feel and add a sense of familiarity to the kitchen, while also adding uniqueness because of the gray color instead of the white," Andrea said.
After deciding on the color and style of Chris's cabinetry, the next big step was planning for the new kitchen island. The key was making sure the kitchen island wasn't too big. He wanted to make sure it wouldn't encroach on the neighboring formal dining space. With Andrea's help, Chris was able to outline and measure his kitchen and determine the perfect size and spot for the kitchen island.
In the end, Chris paired the shaker gray cabinets with wood-textured, light-colored floor and beautiful quartz countertop, inspired by Andrea's original concept boards.
After
Chris's kitchen went from a completely ruined, waterlogged kitchen to an improved, stunning gray modern kitchen with additional cabinetry and countertop space. It transformed into an even more functional kitchen he loves.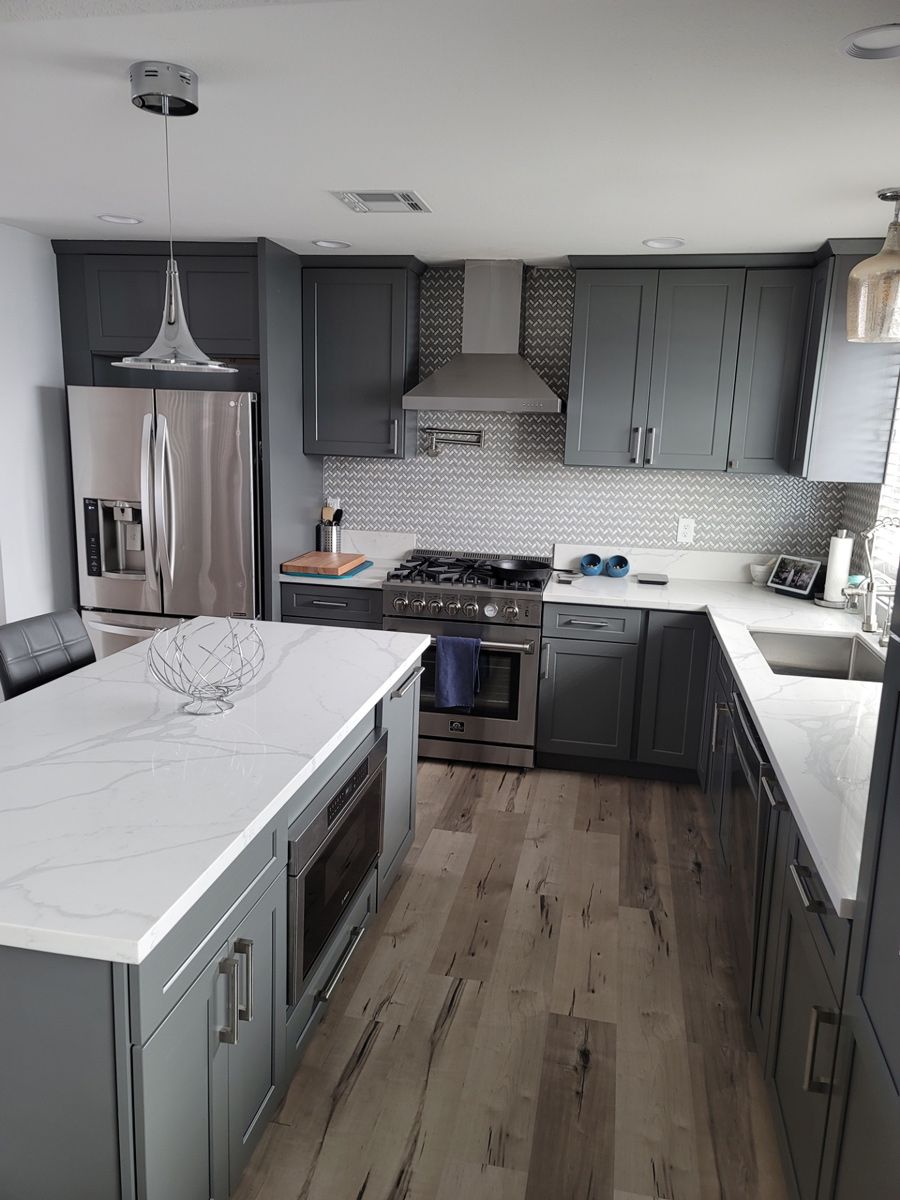 He was stunned at how quickly his renovation was accomplished—no more living in a construction zone for him! He was pleasantly surprised by how fast his cabinets were shipped to him.
Now Chris can enjoy his updated kitchen, complete with his desired casual dining at the island bar, and gorgeous modern elegance to spare.
"Overall, I love how it turned out. It came together so beautifully and quickly!" - Andrea, Vevano Home Interior Designer