Featured Design Project: Designing a French Country Kitchen
By Jessica Grimaud
December 2, 2021
Breaking from popular modern design trends is no easy feat, especially when planning for an extensive kitchen remodel. Yet Tammy, a recent Vevano Home client, found herself longing for a kitchen with an inviting, French Country appeal.
Although current kitchens trend toward stark white cabinets and minimalist design, Tammy wanted a kitchen that blended warm, traditional details with modern practicality.
To help refine her vision, Tammy reached out to the talented interior designers of Vevano Home. With the help of Andrea, a Vevano interior designer, Tammy was able to transform her kitchen from its dated, cramped design to an efficient workspace that reflected her unique style.
Before the remodel, Tammy's kitchen resembled many 90s-era builder-grade kitchens, featuring standard light oak cabinets with a raised panel and arch styling. The outdated cabinets—paired with black-toned backsplash and countertops—lacked the overall flare and warmth Tammy was looking for.
But it wasn't just the design that needed updating; Tammy also disliked that the kitchen layout felt restricting and inefficient. In particular, she felt that her workstation was limited because the microwave, double ovens, and refrigerator were closely packed together.
"It was such a tiny workstation, and Tammy had very little counter space to work with in that area. We needed to expand the work triangle," Andrea explained.
What the Client Wanted
Tammy wanted a design that reflected her own taste and personality. In particular, she was drawn to shabby chic and French Country kitchen designs that featured detailed antique cabinetry and a neutral brown and beige color scheme.
But a new look for her kitchen was just the beginning. Tammy also wanted to expand her kitchen island so that it had a second sink, as well as an overhanging countertop for people to sit at. Her ultimate goal for a more functional remodel was to free up counter space and expand her workstation.
After the design consultation, Andrea put together a concept board of the products she believed would achieve Tammy's vision. Her recommended products include classic elements of French countryside designs, incorporating a warm off-white and beige color palette, detailed cabinets and crown molding, and a timeless apron front sink and oil-rubbed finishes.
To capture the warmth and character Tammy was looking for, the concept board showcased lightly-glazed, beveled antique white kitchen cabinets with knobs and bar pulls in a warm Verona Bronze finish.
In keeping with the antique French Country styling, the concept board also features the exquisitely detailed Pfister Hanover kitchen faucet and biscuit-colored Blanco fireclay farmhouse kitchen sink.
For the backsplash, Andrea included glass linear mosaic of blue, gray, and beige coloring. Rounding out the design was the Typhoon Bordeaux granite countertop and dark wood Mannington vinyl plank flooring. Though not featured on the concept board, Andrea also recommended a statement transitional oil-rubbed chandelier, mini pendant, and indoor ceiling fan.
Visualizing the Space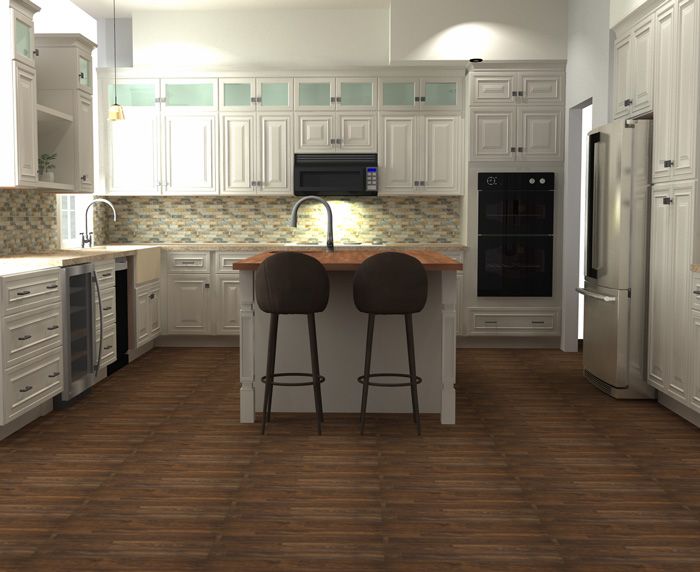 To better help Tammy visualize Andrea's recommendations for the space, Andrea provided a detailed and accurate 3D rendering of the remodel based on Tammy's kitchen measurements.
In addition to showcasing the new products, the rendering also showed Andrea's suggestions for a new kitchen layout.
"When you're planning a kitchen remodel, think about how you can use every part of the kitchen. If there's a space that's being underutilized, consider what you can change in that location so it's more useful to you," Andrea explained.
For Tammy, that underutilized space was a small section of floor-to-wall cabinets beside a small kitchen desk. Andrea's rendering replaced these cabinets with the refrigerator, which freed up space for the double ovens and an open and expanded workstation.
The rendering also details the updated kitchen island, including the statement overhang, butcher-block material, and new bar sink and faucet. The new kitchen cabinetry also offered organizational enhancements, such as roll-out shelves, pegboard organizers, and pull-out bins.
"It was really important to Tammy to have more counter space, so we did a lot of organizational upgrades in the cabinets to help get stuff off the counter and free up some counter space," Andrea said.
As with any home remodel, a successful installation depends on accurate measurements and choosing the right products. As part of Vevano Home's design services, Andrea provided detailed floor plans and elevations and sourced all the products—including finding the best deals—for the project. All Vevano product purchases were deducted from Andrea's designer retainer.
Working with a Vevano Home Designer
Ready to create a space that's uniquely your own? Vevano Home designers can help you with your home remodel, from helping refine and craft your vision for the space to providing the products and detailed floor plans to make it happen.