Featured Design Project: Maximizing Mike's House Flip & Bathroom Remodel
September 9, 2021
By Emily Webb
Before
The bathroom in Mike's home, where Madi had the greatest impact, was outdated and unoriginal.
The cabinets were an old, faded oak that clashed with the tan tile and surrounding beige walls. Above the vanity was a standard, builder-grade frameless mirror, and the adjacent walls included frameless medicine cabinets.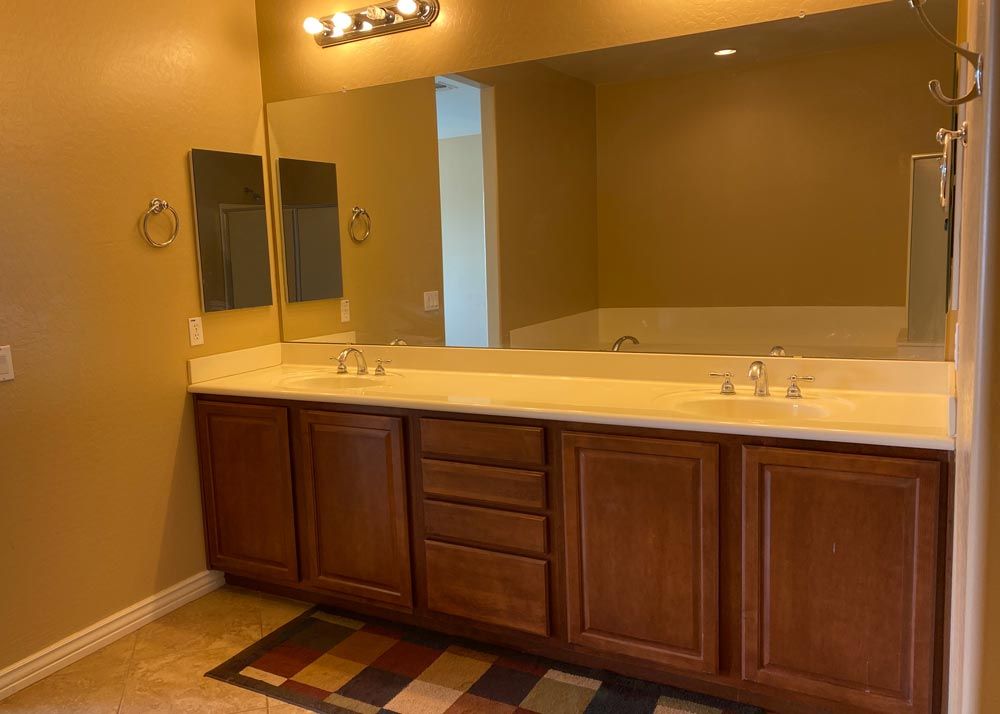 What the Client Wanted
As with any flipper or homeowner looking to increase their home's value, the client wanted to design a more appealing, functional space while staying within budget and sticking to a timeline.
Additionally, Mike wanted his home to appeal to buyers but stand apart from other flipped homes. Though he had some ideas about how to do this, he met with Madi to help refine his vision.
Mike wanted to include modern elements while brightening it up and bringing in a coastal theme. To accomplish this look, the client wanted to incorporate a vanity that looked like natural wood, a tall linen pantry, and a separate mirror for each sink.
The Design Process
During the initial consultation, Mike showed Madi a photo that he used as inspiration for the project.
Since Madi is also well-versed in the different products on the market, she was able to find cabinets and fixtures that almost perfectly matched the inspiration photo and were within budget. Madi also created a 3D rendering of the bathroom so the client could visualize the products in the space before committing to purchasing. Additionally, Vevano Home sent Mike cabinet door samples so he could assess the quality and design in person.
They settled on the tan, natural-looking wood of the Cortina Conch Shell cabinets. The cabinets were accented by white painted walls, Vitreous China Vessel bathroom sinks, and matte black fixtures, which made the room feel sleek and elegant, but comfortable enough that a buyer could see themselves using the room.
Madi's expertise and connections proved especially helpful when it came to getting the work done. Designers can serve as a liaison between the client and the manufacturers, helping to keep the project moving even when problems arise. Vevano designers also provide detailed elevations and layouts for installers and homeowners. Mike's contracters later remarked how impressed they were with Madi's thoroughness providing all the measurements and pieces needed for a seemless installation.
"Madi was great throughout the whole process, communicated really well, and got everything in a timely fashion," Mike said. "Especially in a time when things are on backorder and COVID-19 affected a lot of deadlines, she was really able to get things done really quickly."
After
With the help of Madi's expert design insights, technical knowledge, and resourcefulness finding products, the client completely transformed his bathroom into a modern masterpiece with an eye-catching coastal twist. The combination of warm wood grains, modern matte black accents, and frameless cabinet style resulted in a distinct, high-end look that set the home apart from other flips.
In addition to helping with the bathroom, Madi helped source various lighting fixtures, hardware, and other products for the rest of the home. Madi explained that even the little details can help a home stand out on the market.
"People like to see that extra effort, and it gives more character to your home and it will make it stand out against all the others," she said. "Little design elements—like putting in a wall-mounted faucet instead of a standard faucet or a natural wood vanity instead of a painted white vanity—will make a big difference in the long run and help you stand out in the short run."
In the end, buyers loved the bathroom and home's overall design so much that the flip was purchased before the remodel was even completed.
"The best part about working with Vevano was just how easy everything was—from the design to actually getting the fixtures to handling something that was out of stock or low— everything was easy," Mike said.
How Designers Increase Your Home Value & Maximize Your ROI
1. Designers Know What Sells
If you know how to do the labor yourself and you have a pretty good idea of what you want the finished project to look like, it may seem unnecessary to hire a designer.
However, what Mike discovered with Madi is that someone who spends all their time in the interior design space will likely introduce new concepts you didn't know existed, and will have a better idea of what sells.
"There are just so many other options that people don't even consider," she said. "A lot of people, if they were to flip this home, would probably do a standard white shaker cabinets with a gray tile because they think that's what's going to appeal the most to people. But people actually like to see something unique."
Professional designers know how to add personality to a space without making it tacky, and they understand that, above all, a buyer needs to be able to imagine living in the home.
2. Designers Save You Money
While it may seem like a designer makes your project more expensive, you actually save money in the long run—especially if you work with a Vevano Home designer.
Your first consultation with a Vevano Home designer is always free. If you choose to move forward with the designer, you do pay a small retainer for their services, but that small fee is deducted from any products you purchase through Vevano Home—rendering the design services absolutely free!
But even so, designers can help you save money by finding the best deal on products and ensuring you purchase the exact amount that you need. Through concept boards, 3D renderings, and product samples you can make sure the product and design is exactly what you want before committing to major projects and purchases. You're also less likely to make a costly mistake when you work with an interior designer.