Featured Design Project: Designing an Airbnb Kitchen
September 24, 2021
By Jessica Earley
One of the most exciting parts of any home renovation is the kitchen remodel. Unfortunately, it can also be one of the most stressful, expensive, and time-consuming home projects, especially if you're starting from scratch. However, a professional interior designer can help you stick to your budget and timeline, all while ensuring your new kitchen is as beautiful as it is functional.
That's why Mark and Stana chose to work with Vevano designer Andrea on their brand-new kitchen remodel. The couple had recently built an apartment that they planned to rent out to Airbnb guests. To better attract Airbnb guests and renters, Mark and Stana wanted Andrea's help designing a stylish and durable fully-functional kitchen.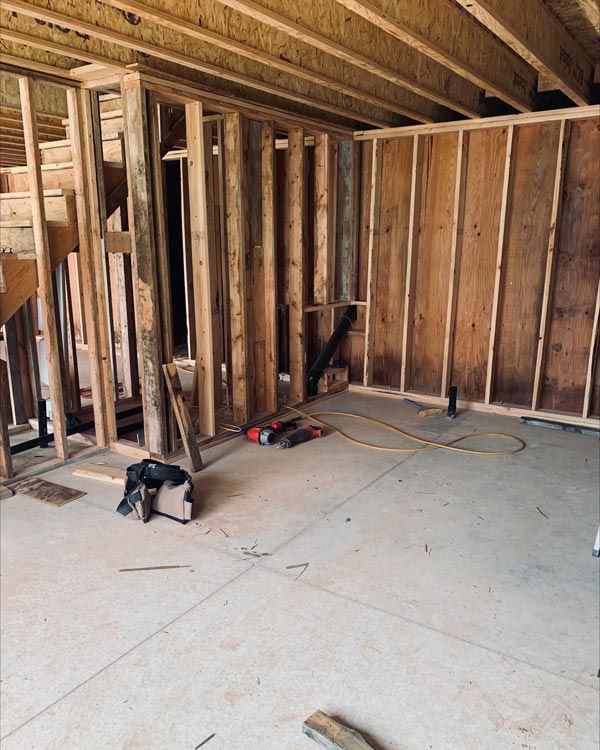 By the time Mark and Stana reached out to Vevano Home, their new apartment space had only basic plumbing and electricity. The area where the couple wanted to put the new kitchen was smaller than the average residential kitchen and had slightly angled walls, which offered some challenges regarding the design and layout.
What the Client Wanted
As with most remodels, staying within budget was a major priority for Mark and Stana. At the same time, they didn't want their kitchen to look or feel flimsy or cheap either. Since they would have various guests renting the apartment, they desired a kitchen that could stand up to heavy wear and tear.
They also wanted an efficient and fully functional use of the space even though it was smaller. Most importantly, the clients wanted a design and style that wouldn't go out of style quickly and that would have a broad appeal to vacationers that will find the property online.
The Design Process
Visualizing the Space
Vevano Home designers begin any new project with a consultation about the client's needs for the space and design preferences.
After meeting with Mark and Stana about the type of products and layout they wanted in the kitchen, Andrea created an interior design concept board featuring specific products, fixtures, and finishes that she recommended based on their discussions. She also created a 3D rendering so the clients could visualize the kitchen layout and how the products would look in the new space.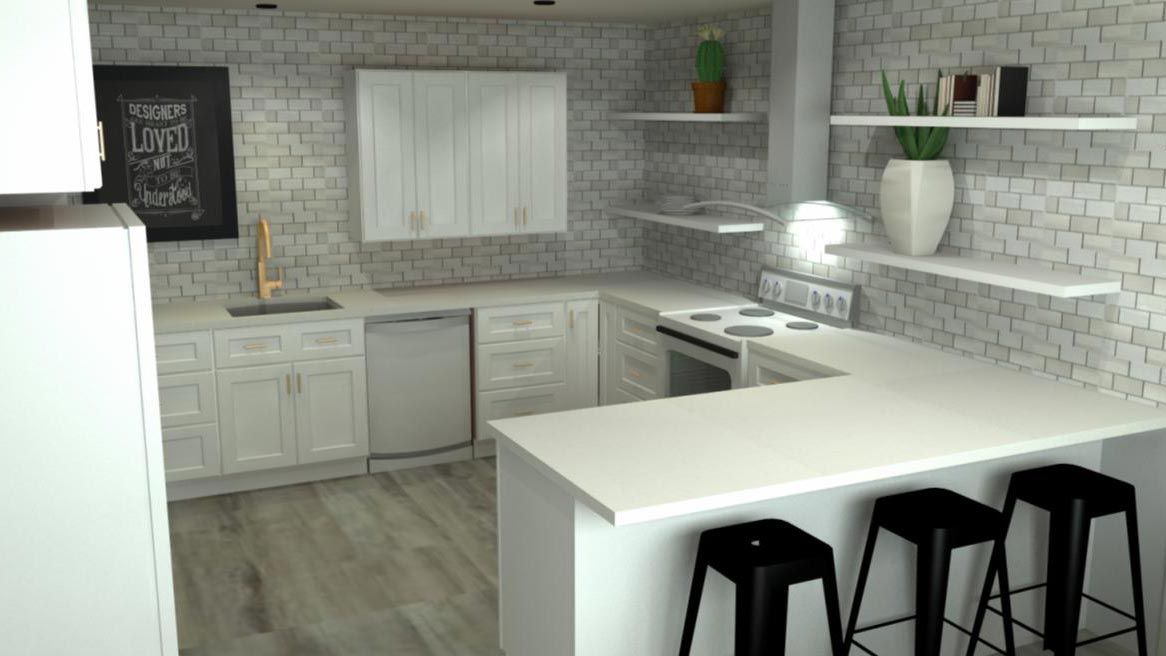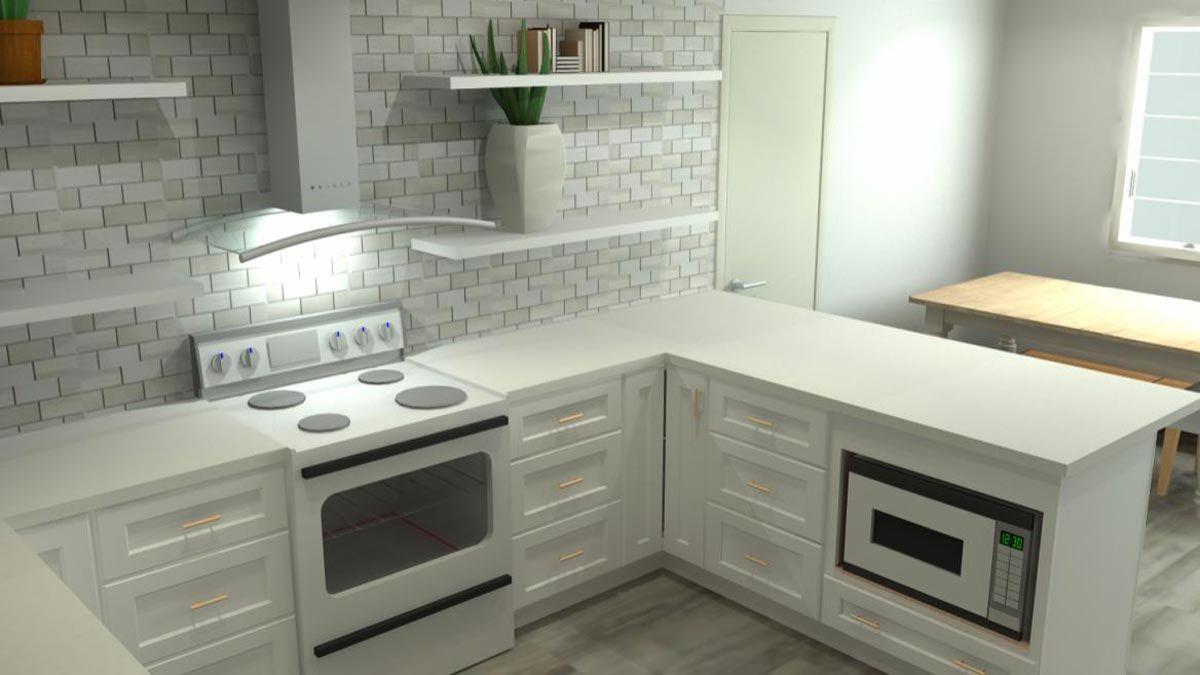 Using the concept board and 3D renderings as a jumping-off point, Andrea worked with the clients to refine the layout and select the best products for the space.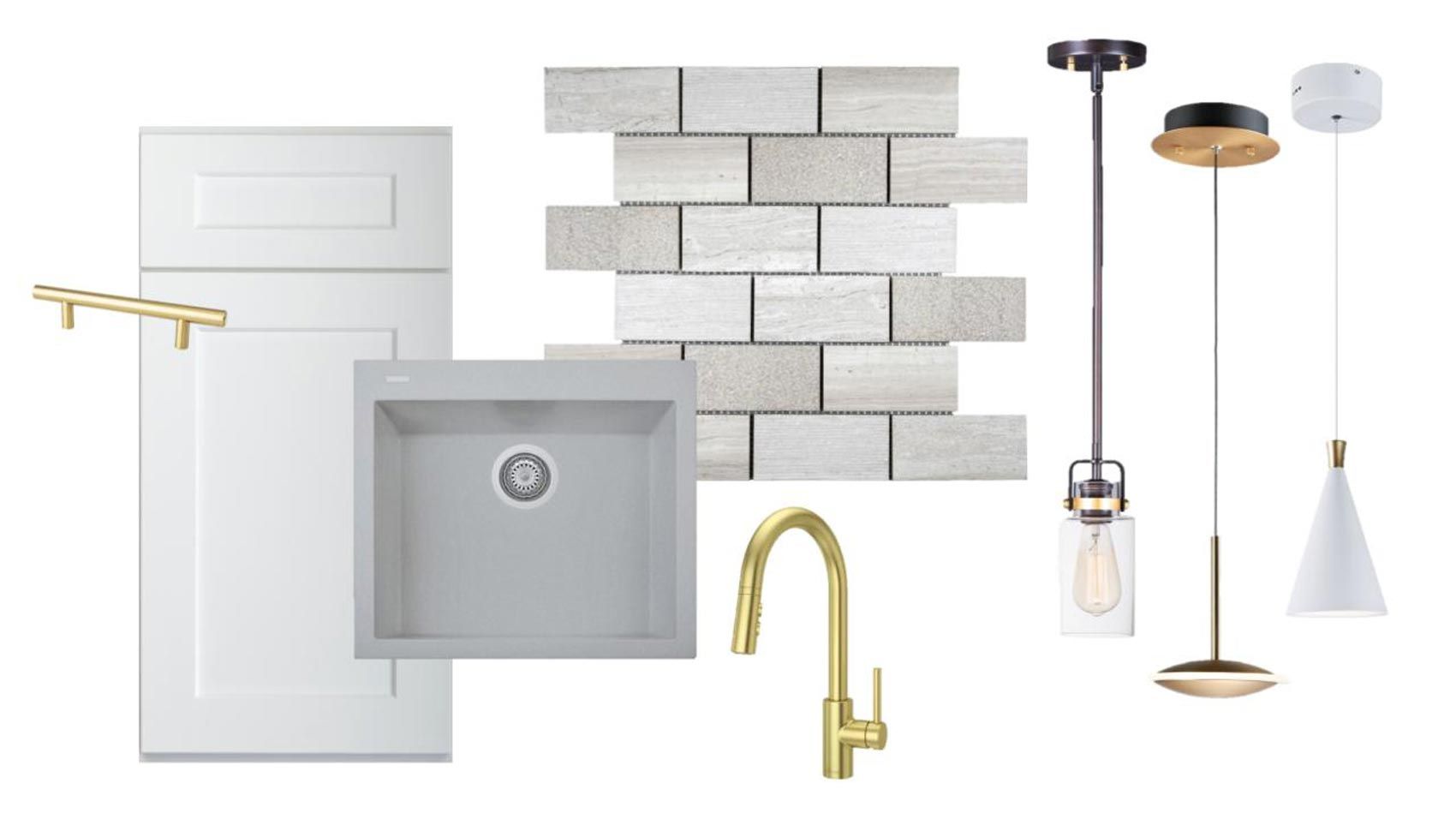 Modern White Shaker Cabinets
Andrea recommended modern Shaker white cabinets for their timeless, transitional qualities. Transitional styles take elements from other styles and find a balance between them. Modern Shaker white cabinets do this beautifully by taking a clean, minimalist approach to the traditional recessed cabinet door.
Andrea also suggested white cabinets because they would look good in their Airbnb photos and would communicate a clean feeling to their guests. Though darker colored cabinets are usually easier to maintain, Andrea still recommended white because the apartment would be cleaned often after each guest. White also helps the space feel bigger.
Black Matte Door Hardware and Faucet
Initially, Mark and Stana wanted gold finishes and hardware throughout the kitchen. But Andrea suggested matte black finishes because they would appeal to more people and look better over time. In contrast, gold finishes (though currently trending) might look outdated in a few years. They chose a transitional modern bar for the cabinet doors and drawers and a highly versatile matte black pull down faucet.
White Subway & Hexagonal Backsplash
Andrea suggested white subway backsplash for the same reason as the white cabinets. They both age well and appeal to most customers. As the design started coming together, they decided to also install a hexagon tile backsplash behind the oven to tie back to the sloped, almost hexagonal shape of the room.
Designing the layout
To save space and stay under budget, Andrea recommended the clients focus on the base cabinets. For this reason, Mark and Stana decided to have only one wall cabinet. This also helped highlight the architectural slope of the wall. By foregoing wall cabinets on every wall, the room felt less crowded. However, they did still add some floating shelves to complete the look and provide more storage.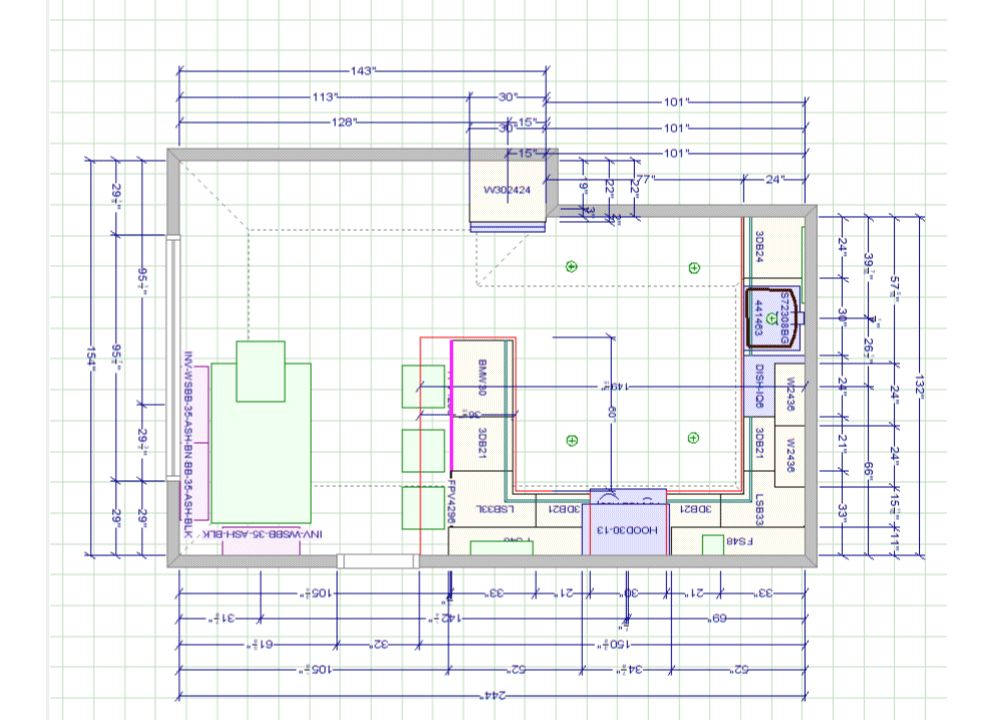 For better kitchen functionality, Andrea designed a kitchen peninsula, which provided more storage and a casual dining area. The base cabinets included two lazy susans to maximize often underutilized corner spaces. They also used the peninsula's base cabinet space to store the microwave, freeing up counter space and preventing the kitchen from looking cluttered.
After
With the help of Andrea's design, product recommendations, and detailed elevations, Mark and Stana were able to stay under budget and complete their new apartment kitchen. "I really enjoyed working with Vevano!" Stana says. "Andrea was very professional. I was excited to see the design of my kitchen even before the sheetrock was even up."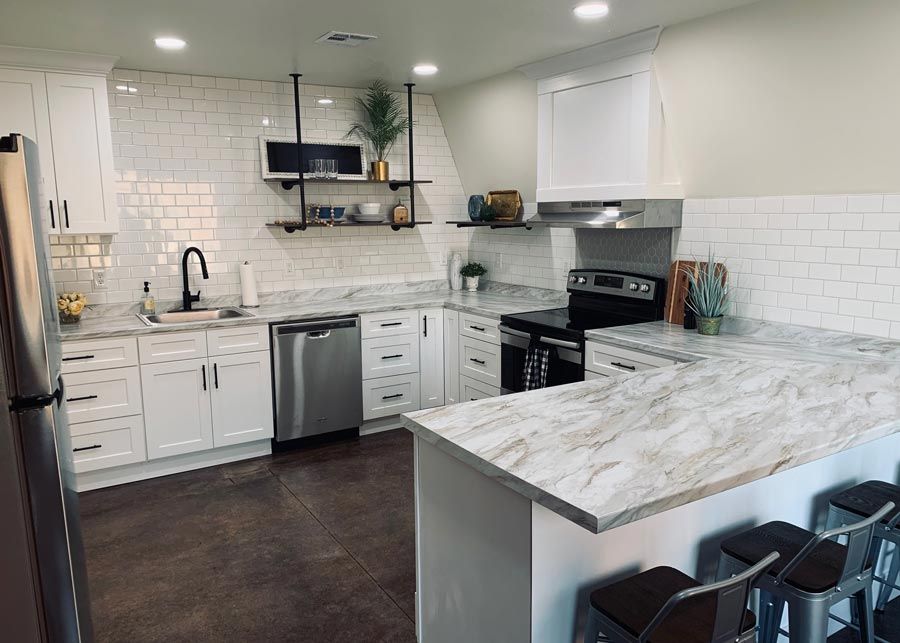 When they were done, Mark and Stana loved how the kitchen design met all their expectations. Andrea's suggestions for white cabinets helped the kitchen space feel open and inviting while offering all the storage and functional needs they were looking for. Their kitchen is fully operational and ready for all of their many Airbnb guests to enjoy!
"The kitchen is beautiful!" Stana says. "We love it. We have bought some cabinets from a home improvement retailer. We were pleasantly surprised to find that the cabinets from Vevano Home are of much higher quality! Overall I'm super happy we decided to go with Vevano. The whole process was a good one! I would totally recommend it!"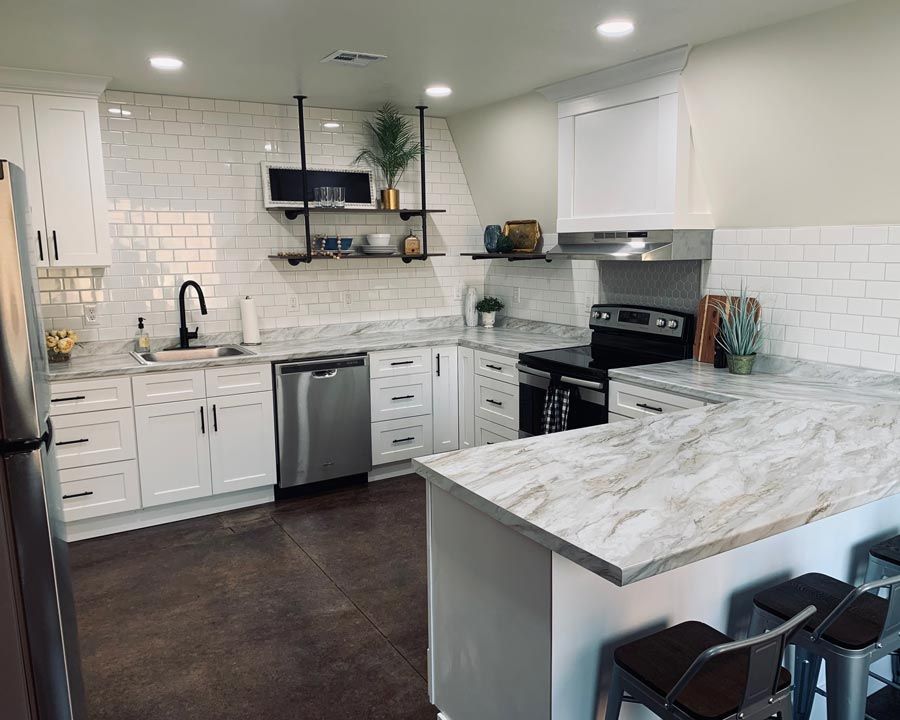 Design Your Home with the Help of a Vevano Designer
Whether you're building something from the bare bones like Mark and Stana or you're renovating existing rooms in your home, our Vevano Home designers will be with you every step of the way!
They can help plan and execute your dream design and collaborate with other contractors you need to get the job done. Reach out for a free consultation!