Why Measuring Your Space is Important: A How-to Guide
By the Vevano Home Team
January 21, 2021
When it comes to space planning or remodeling, measurements are especially handy to have. Having accurate measurements increases efficiency throughout the whole process, whether the project is DIY or you choose to work with a designer. Measurements are a great place to start when you're thinking about a large or small remodel.
It's important to familiarize yourself with the dimensions of a room in order to know what you have space for and what kind of space you need to fill, while also giving consideration to built-in features or appliances. Staying true to the measurements can help with further customization of the room by utilizing what's already there and knowing exactly how much material you need for any updates.
Using the tools and pointers below, map out the room you wish to redesign with appropriate measurements to help with your remodel or renovation, from start to finish.
How to Measure a Room - The Basics
What you need:
Measuring Tape / Tape measure / Measuring App
Drawing Paper
Pen / Pencil
Camera / Smartphone Camera
Before you start measuring, start with an outline. Sketch out the basic shape of the room then indicate where there are doors, windows, closets, or other fixed features. This is your map for measurements so you can mark the length and width of all the necessary features to plan for.
Using a measuring tape, measure and indicate the following in the outline:
Wall to wall: note each side of the wall, and indicate if they differ. Measure floor to ceiling as well.

Measure walls to outer trims of windows/doors where applicable, or wall to wall if there are no other wall openings.
Fixed features such as doorways, windows, closets, or nooks (or other built-in features).

Measure windows and doorways from outer trim to outer trim (instead of just the window opening or glass) and label the measurements.
Label and mark appliances, cabinets, or where furniture will be. Distinguish between base cabinets and upper cabinets where necessary.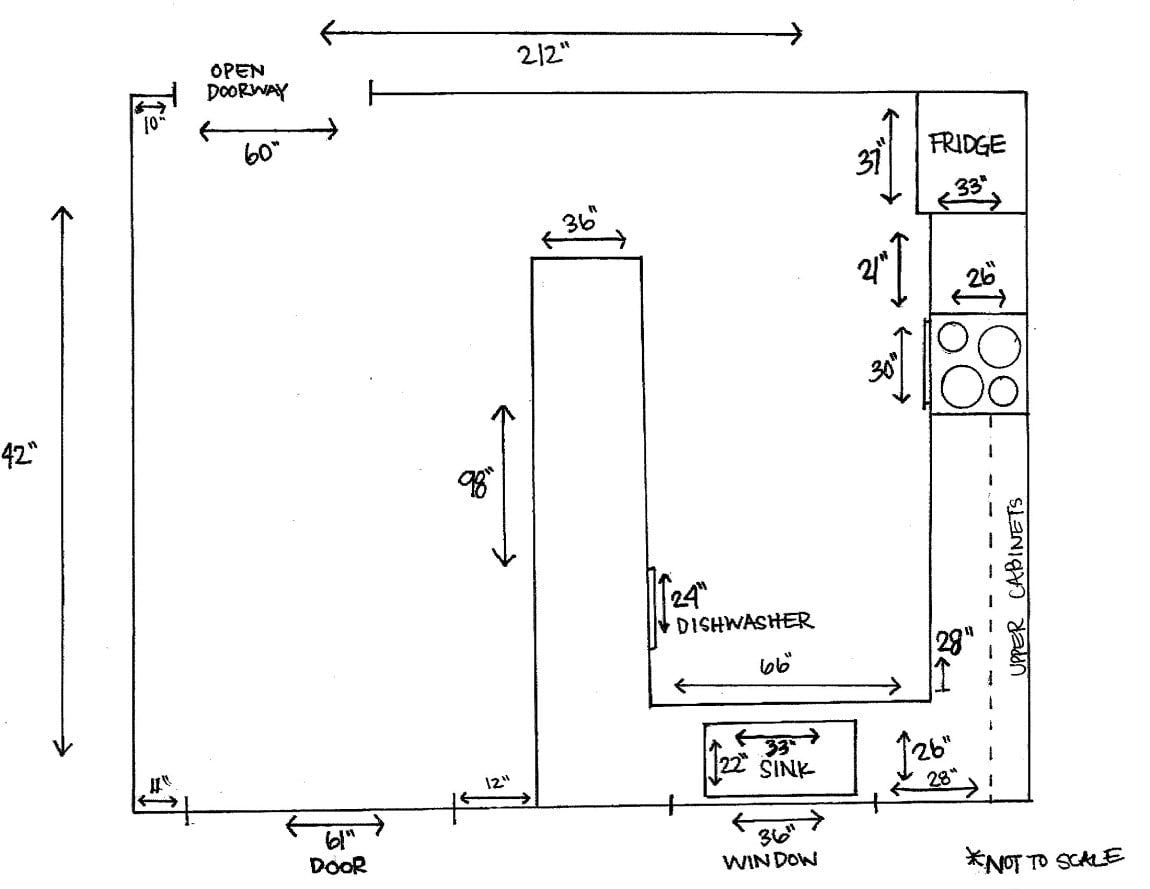 Square footage, or the area, is the measurement for calculating efficient measurements. It may help to think of the room in square blocks (which could each represent a square foot). The basic formula to measure a room's square footage is:
Length x Width = Area
This formula, using the feet measurement (12 in. to 1 ft.), helps determine the square footage of anything, from a section of a room, to a stretch of cabinetry, or your refrigerator.
If the room is an unconventional shape, break it down into square block areas, measure the length and width of each section then add all of them up to the room's total square footage. For example, a closet or pantry might be 2x8 sq. ft., so it would add 16 sq. ft. to the room's total area. If there's a countertop island dividing the room, measure the length and width of the island to approximate that occupied space. To measure for cabinet placement specifically, use our straightforward 8-step guide here.
When it comes to measuring and planning for a bathroom, you'll need other measurements as well. Note any measurements for plumbing, outlets or connections. For example, the rough-in size is an important measurement to note when installing or replacing a toilet. Rough-in measuring reflects the distance between the wall and the center of the toilet drainpipe, and is usually 12 in. from the wall. Also measure the location of the plumbing for the sink and shower when planning for a bathroom remodel.
Pictures of your room come into play when you need a reference image to plan from, either for yourself or for the designer you will be working with.
Are Measurements Needed When Working with a Designer?
Yes! Any designer will need an idea room dimensions to accurately set the stage for your vision. Supplying measurements helps the designer know how everything fits together before any changes are made. This ensures accurate renderings of proposed design ideas, a great fit of features, optimized time working on the project, and to reduce the potential amount of waste, and therefore costs - leaving a happy homeowner at the end of the day.
If you're using a designer to help with your remodel, these metrics do not need to be super precise, but they do to give a good idea of the dimensions of the space. With a combination of measurements and photos taken from different angles around the room, a designer has enough information to create a personalized rendering of what the room will look like, so you know exactly what to plan for.
Whether you hire a professional designer or design it yourself, measurements of the room are always necessary when it comes to updating your space.
How Do Measurements Help When Purchasing Supplies?
When it comes to measuring to plan for product use, such as flooring, tile, or other materials, accurate dimensions are extremely helpful. Whether planning for new cabinets or to ensure you get enough flooring, having room measurements are helpful for purchasing enough product for your project's scope.
Using the L x W = A formula above, take the measurements of the space to find the square footage of what you want to update, for both the floor or the walls. Flooring and tile come in a few different sizes and shapes, so select an appropriately sized set to match the space you're updating.
When it comes to tile and flooring in particular, always order extra so you don't run out of supplies. For flooring, tile, or backsplash, add 10 percent more to the total amount of square footage needed (rounded up to the nearest size based on how the flooring tiles/planks are packaged.) This ensures you have enough material in case any adjustments are needed or if any tiles break in the process. A later purchase might have alterations to what you originally bought or that material could be out of distribution. There's nothing wrong with having extra tiles or flooring planks on hand in case of damage.
To see this in action, say you are planning on updating your bathroom floor with tile, and also extending that same tile halfway up the wall on all sides of the room. The bathroom floor is 4x6 ft (or 24 sq.ft.), and the bathroom wall measures 6x10 ft (or 60 sq. ft.). Since you're only updating half the wall, divide 60 sq. ft. in half to 30 sq. ft. Now your total square footage to be updated with tile, using the L x W = A formula, is 24 x 30 = 720 sq. ft.
To calculate 10 percent of 720 sq. ft., move the decimal spot one numeral to the left (or multiply the total by 0.1). In this case, 10 percent of 720 sq. ft. is 72 sq. ft.
720 (total sq. ft.) + 72 (10 percent of total) = 792 sq. ft. (the total amount of tile you need)
As 12x12 in. is a popular size, let's use that example. Divided by 12, 792 reduces to 66. You need approximately 66 tiles for this project. Single tiles usually come in boxes of 10-15, you can plan to buy between 6 and 7 boxes of tile for this flooring update.
Measurements Simplify the Planning Process
Measuring your space prior to remodeling or space planning is a valuable tool for the remodeling process. Your designer can create a more accurate representation of your vision with renderings while planning the project, and you can purchase enough product to see your project through to your liking.
To work with a designer and optimize your remodel, reach out to Vevano's designers here.