7 Easy Home Improvement Ideas Under $1,000
If you've been interested in remodeling your home, now is the time! There are several different easy home upgrades that you can do for less than $1,000. We'll share with you some simple, budget-friendly home improvement ideas so you can turn your home into the dream home you've always wanted!
As you decide what home improvement project you want to tackle, keep in mind the expertise, budget, and time the project may require. Some projects will be more disruptive than others, requiring you to forgo using parts of your home until the project is complete. For each home upgrade, we've provided the average cost, time to complete, level of disruption, and other factors that can help you decide which home improvement project is right for you.
Switch Out Cabinet Door Hardware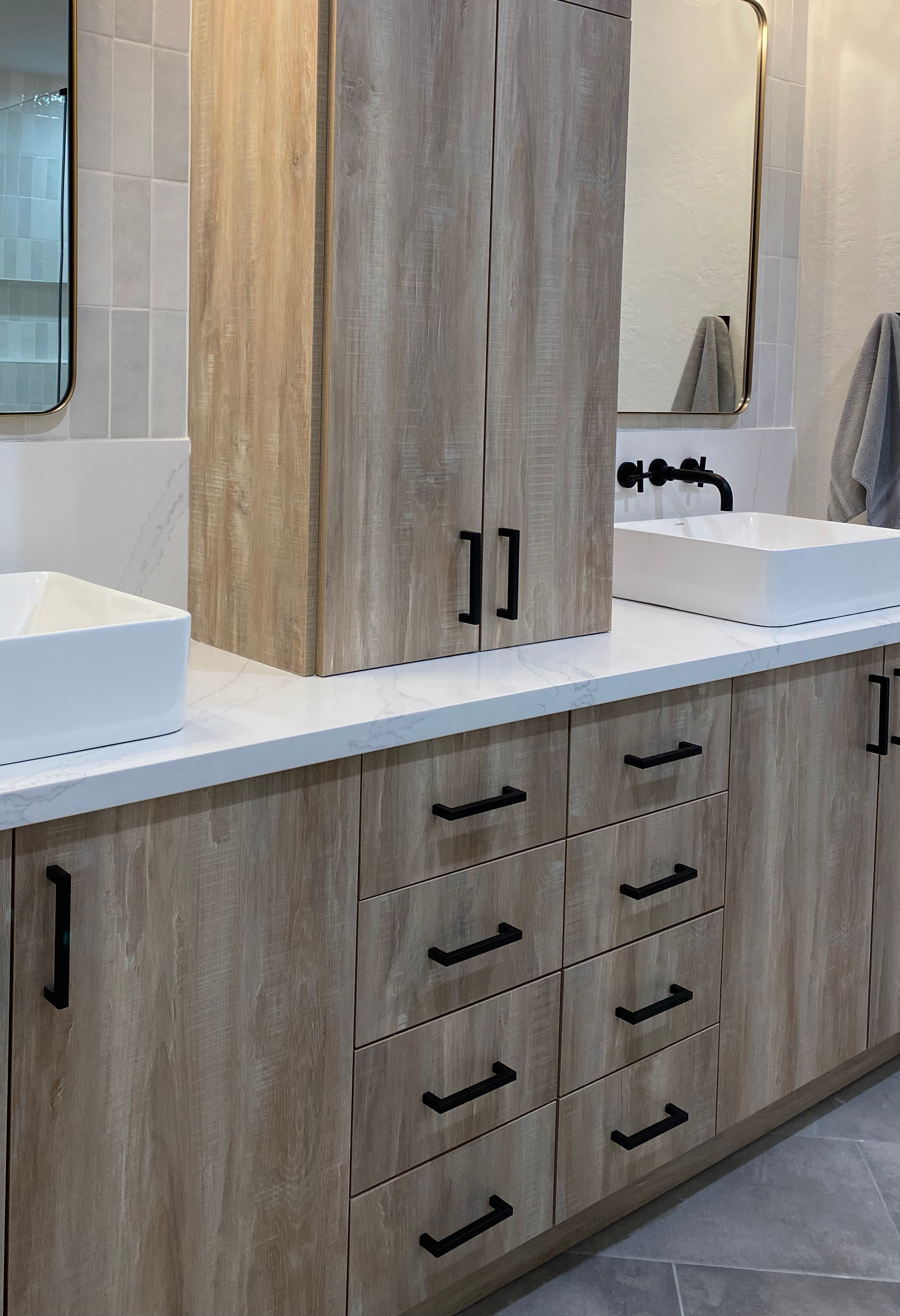 Average Price: $90-$450 for standard 30-cabinet kitchen
Average Time to Complete: 2-3 hours
Disruption: Low
Expertise: DIY-friendly
An easy way to improve your kitchen's style—without spending thousands of dollars on new cabinets or fixtures—is to swap out old cabinet door hardware for new ones. On average, new cabinet pulls and knobs cost $3-$15 (although some can go up to $50), making this a reasonably affordable way to upgrade your kitchen or bathroom cabinets. Plus, new cabinet hardware is easy to install and can take as little as 2 hours to complete for a standard 30-cabinet kitchen.
For a more contemporary style, look for doorknobs with a geometric profile in brushed gold or matte black, or consider pulls with a stylish, twisted arch. You also can't go wrong with a minimalist, modern T-Bar pull in brushed nickel. If you want something more traditional— and eye-catching— opt for doorknobs with raised artisan designs or pulls with beveled designs.
Whatever you decide, make sure the hardware styles match the bathroom or kitchen's current style. For example, aim for a finish that matches surrounding fixtures that won't clash with your cabinet's color scheme.
If you are replacing or adding door hardware to your bathroom cabinets, consider buying matching towel racks or toilet paper holder hardware for a more cohesive look.
Organize & Accessorize Your Kitchen Cabinets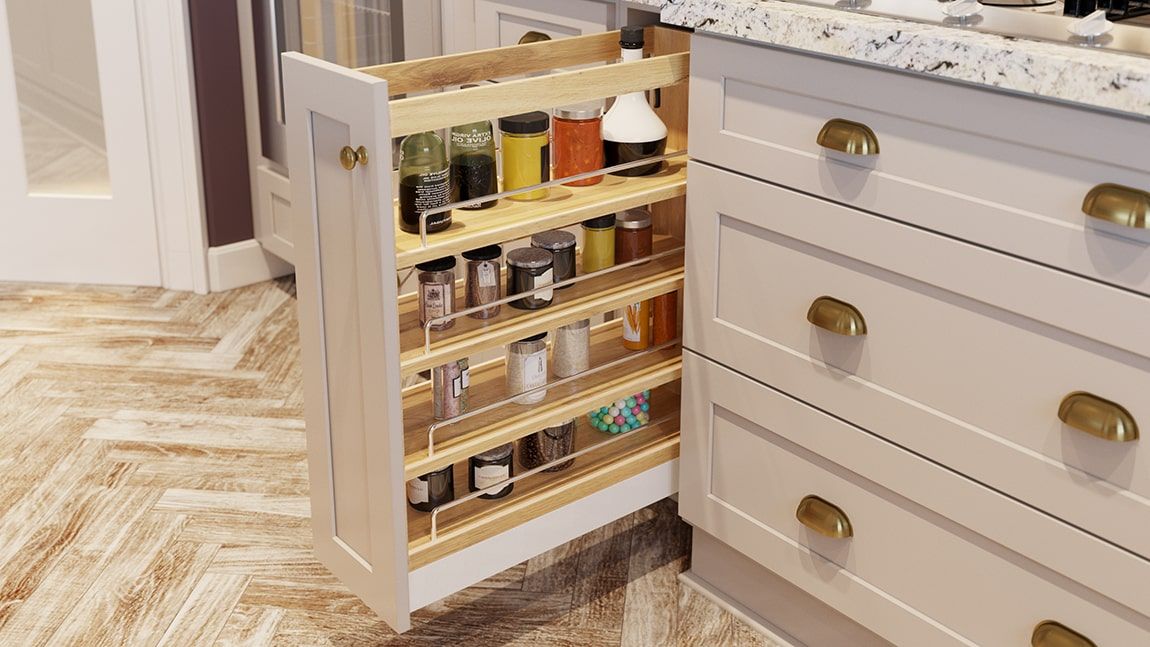 Average Price: $0-$300
Average Time to Complete: 1-2 hours
Disruption: Low
Expertise: DIY-friendly
Organizing your kitchen cabinets may seem daunting at first, but the outcome is well worth the effort! Plus, there are some inexpensive ways you can simplify your cabinet organization, like installing pull-out organizers, spice racks, and other drawer and cabinet organizers. You can find most of these cabinet accessories under $100, although some pull-out organizers can cost up to $300.
Although you can take on organizing your kitchen all at once, we recommend taking it one section at a time. A great place to start is your kitchen pantry: take all of your food out so you can see what you have, and then throw out any expired food. From there, you can use clear plastic canisters to hold loose food items like flour, sugar, and salt. Use baskets or trays to organize items like granola bars and fruit snacks. If you're looking for some extra space, hang a rack on your pantry door where you can store baking items like food coloring, sprinkles, and decorating tools.
Spice cupboards are notoriously known for being disorganized, which is why we recommend installing spice racks or other spice organizers. Be sure to put labels on unmarked spice jars and place your most-used spices in prime, accessible places.
For other parts of the kitchen, consider organizing your cans on stackable racks or installing pull-out organizers for your pans and other kitchen items. Don't overlook your drawers either—a simple drawer organizer for your silverware can do wonders.
Install Under Cabinet Lighting
Average Price: $30-$150 per under cabinet light
Average Time to Complete: 2-3 hours
Disruption: Low
Expertise: Professional recommended, but can be DIY-friendly
Under cabinet lighting adds an extra flair to your kitchen at a very low price. These hidden lights elevate your kitchen's design, brightening your room, highlighting your backsplashes, and providing excellent task lighting for your countertops. Under cabinet lights illuminate your cabinets and countertops but are installed in such a way that the lighting fixture itself isn't seen, so you don't have to worry about finding fixtures that match the finish or style of the room.
Most under cabinet lighting will be under $100 per fixture, and the installation is relatively simple and DIY-friendly.
Swap Out or Install New Light Fixtures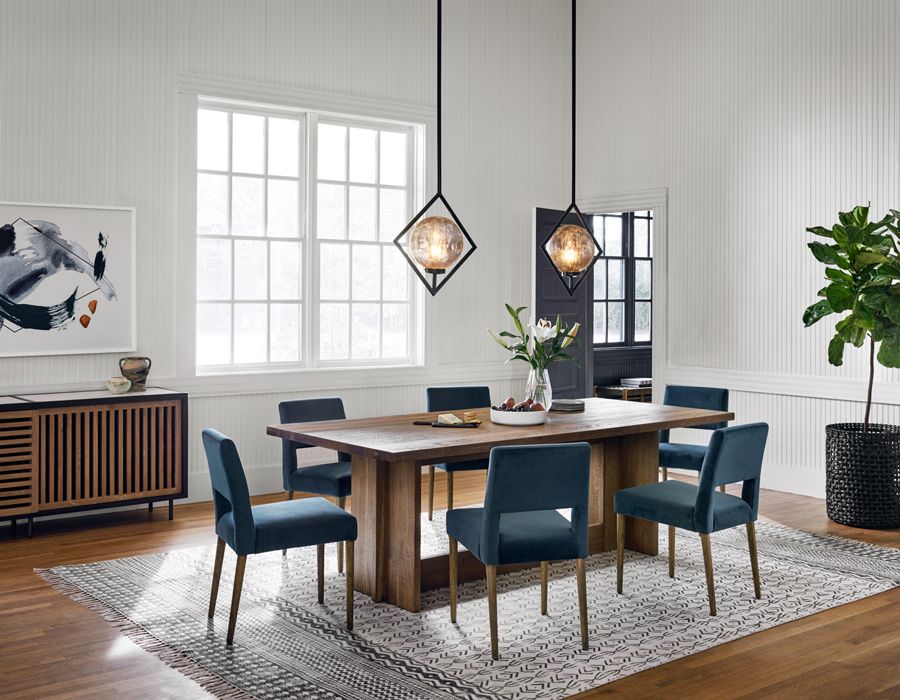 Average Price: $200-$800 per ceiling light fixture (pendant, chandelier, or flush mount)
Average Time to Complete: 1-2 hours per new fixture
Disruption: Low
Expertise: Professional recommended, but can be DIY-friendly
Another easy DIY project is to swap out old light fixtures for new ones. This easy home upgrade can be as simple as replacing old bulbs with energy-efficient LED lights, which can help you save on energy bills.
If you're able to spend a little more (but still stand under $1000), a new living room chandelier or set of kitchen pendants is a beautiful way to elevate your space—not to mention increase your home's resale value. Likewise, a pair of new outdoor sconces or post lighting along the outdoor walkway is guaranteed to improve your curb appeal. But if you want to wow your guests, consider getting a smart light with adjustable brightness, multiple color settings, and Bluetooth operation.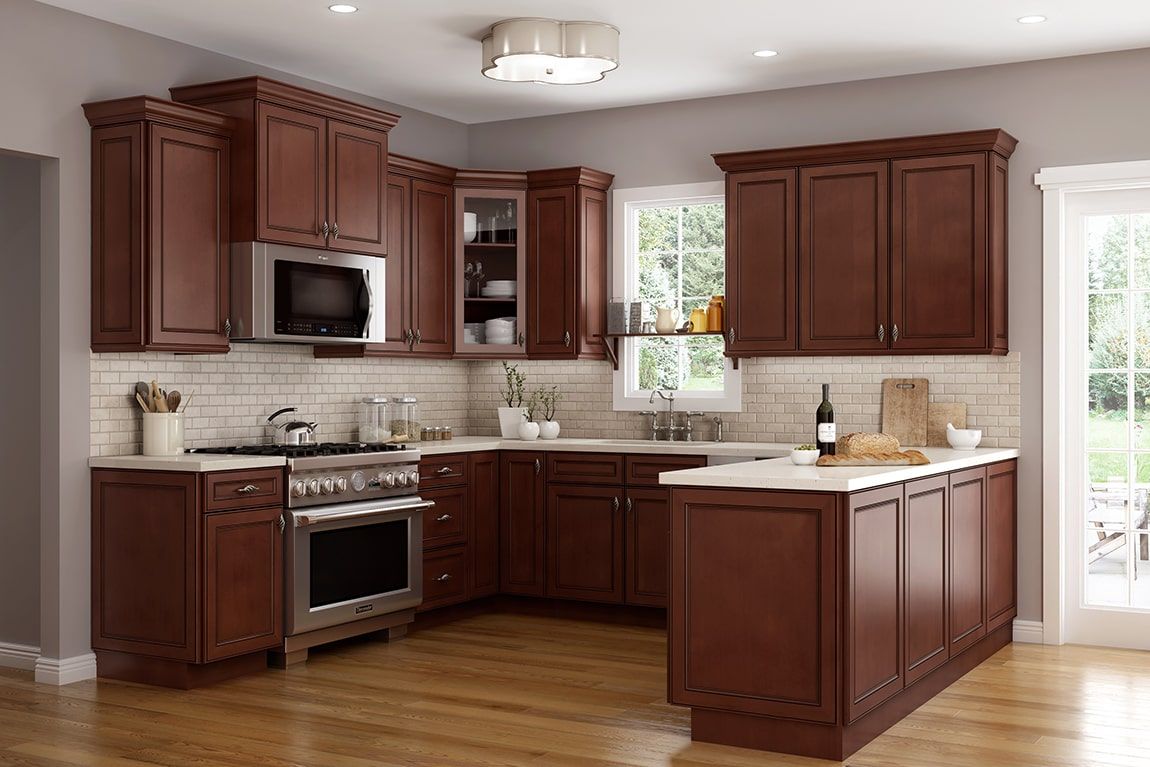 Average Price: $650-$1360
Average Time to Complete: 2-3 days
Disruption: High
Expertise: Professional recommended
If you don't have a backsplash now behind your kitchen sink, prepare yourself to be wowed. Backsplash adds beautiful colors and patterns, brightening up the whole room. Not only will it add aesthetic value to your kitchen, but backsplash protects your walls from water, grease, and food that may splash against its surface. Backsplash is also more resistant to dents or scratches from a knife or other hard items that could scrape against its surface. Between material and installation costs, plan to spend around $1,000 to backsplash tile in your kitchen. The final price, of course, will depend on the size of the project and the quality and design of tile that you select.
Average Price: $75-$175
Average Time to Complete: 1 day
Disruption: Medium
Expertise: DIY-friendly
A very easy task that can be done in less than a day is to repaint any old doors, especially your front door. You'd be surprised how much a fresh coat of paint can completely improve the look of your doors, especially those with chipped or scratched surfaces. Consider painting your door a bold, vibrant color for a pop of personality and visual interest.
Though painting your doors is fairly DIY-friendly, the process could be considered disruptive. After all, the project may require removing the door from its hinges (leaving you with no door for a few hours) and preparing a space for sanding and painting. It's recommended you wait at least 24 hours for the paint to dry before using your door.
Put a Fresh Coat on Your Garage Door
Average Price: $50-$75
Average Time to Complete: 2-3 days
Disruption: High
Expertise: DIY-friendly
If you're looking for a project that will really enhance your curb appeal, repaint your garage door. Because a garage door is exposed to the sun almost 24/7, the old paint is bound to fade and crack. A fresh coat of paint can make your home look amazing and ten years newer.
Between cleaning and priming the garage door, applying your first and second coats of paint, and drying time, plan for this project to take around 2-3 days.
Paint Your Living Room—or Add an Accent Wall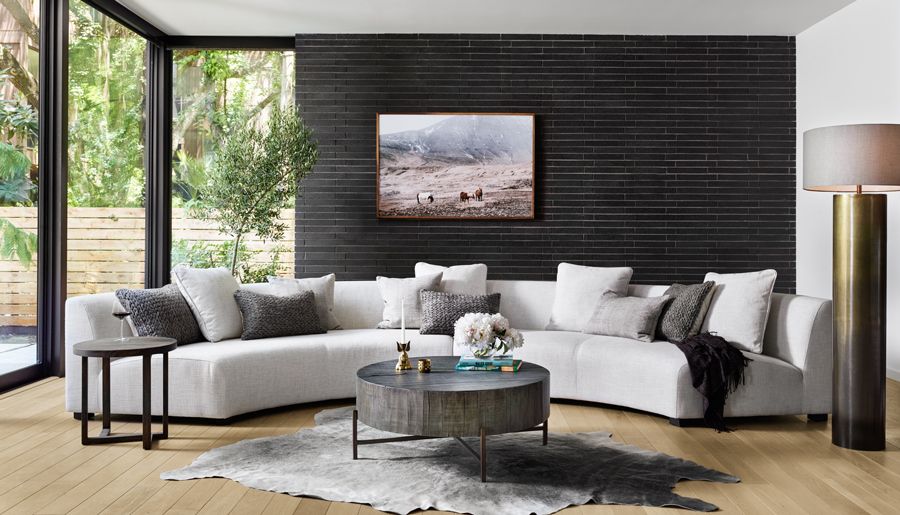 Average Price: $800-$1200 for standard living room
Average Time to Complete: 2-4 days
Disruption: High
Expertise: DIY-friendly
Once again, painting is a wonderful and inexpensive way to update your home. A new coat of paint can dramatically transform a space. However, if you don't have the money to paint your entire living room, consider painting or adding wallpaper to just one wall and making it your accent wall.
An accent wall done well can elevate a space just as much as painting every wall. When considering where to put your accent wall, task yourself the following questions: where is the eye already naturally drawn to? What wall is the seating facing? Accent the wall that's already a natural focal point. For example, if you add a wallpaper accent wall in a bedroom, try putting the wallpaper on the wall where the head of the bed will be.
Need More Home Improvement Ideas? Ask an Interior Designer
If you want to get the most bang for your buck, consider meeting with an interior designer for expert insight on what upgrades will make the biggest difference in your home. Our Vevano Home interior designers work with your budget, timeline, and unique style to design a beautiful and functional space. They'll even create concept boards, develop 3D renderings, and send product samples, so you know exactly what your space will look like before you commit to a project. Plus, whatever products you buy from Vevano come out of the designer's retainer, making the design service completely free.
To learn more about how an interior designer can help you achieve your home improvement goals, sign up for a free consultation today!