By the Vevano Home Team
June 3, 2021
Swap Out Light Fixtures
We'll start with the most inexpensive project first—swapping out old light fixtures. Perhaps your home was built a few decades ago and the current lighting fixtures are a bit outdated. Maybe you want to install energy-efficient lighting products so that you can save money and decrease energy consumption, keeping energy costs low. Whatever the case, this is an easy first step in renovating your home to increase its value.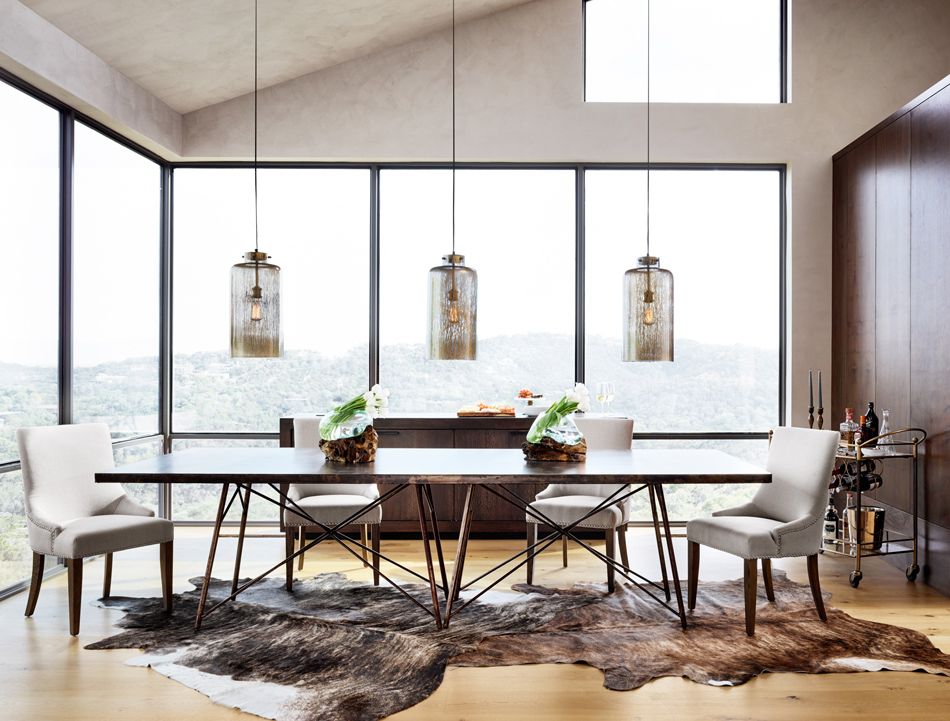 If you're looking for energy-efficient light fixtures, take a look at the wide variety that Vevano offers. The following light fixtures are also wonderful options for improving home value:
Consider Repainting
One of the easiest and most inexpensive renovation projects you can do is painting; it is also one of the most cost-effective ways to increase the value of your home. The paint on the walls sets the tone for the entire room. If you have the resources to do it, we recommend repainting as many rooms in your home as possible. If you can't repaint all the rooms, pick the rooms that could use a nice, fresh paint job the most. It could also be that you need to tear down some wallpaper and then paint the walls. Doing so will create a more updated, clean look.
The cost for repainting depends on a few factors, like the square footage of the room, how many coats of paint you need, the type of paint you're using, and, if applicable, labor costs. Painting is one of the easiest remodeling projects to do, so if you feel like you can do the job, then go for it. If you feel more comfortable hiring a professional painter, do what's best for your situation. In addition, consider repainting the exterior of your house. This project you most likely would hire professionals to take care of.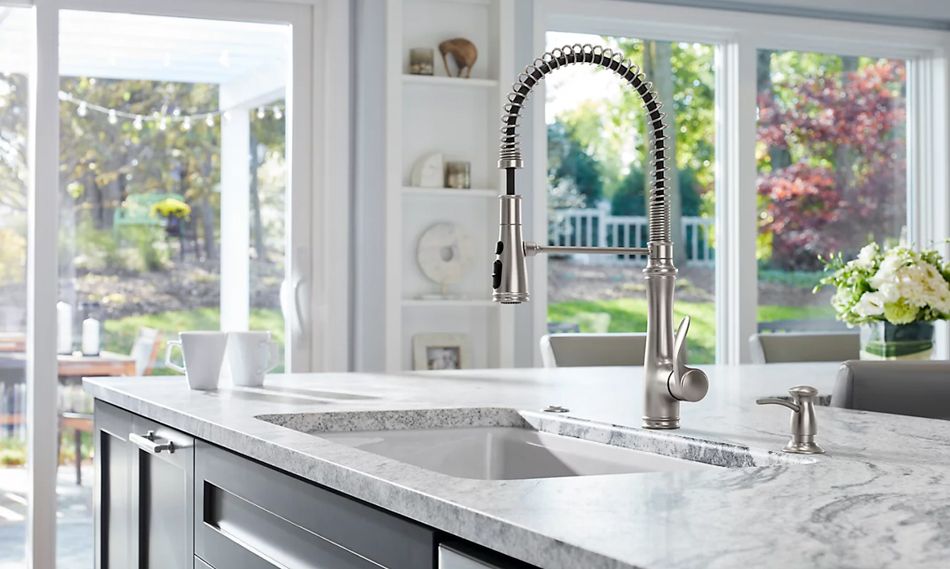 A renovation project that could take place in your kitchen and bathrooms is replacing the old faucets. A shiny new faucet is sure to impress a potential home buyer, whereas an old, dated faucet might put some buyers off. In addition to saving on water use and bills, opting for new and effective eco-friendly faucets can also increase the value and appeal of your home.
Need some help choosing a faucet? Check out our ultimate guide to faucets to find an option that's guaranteed to wow potential buyers. You can also explore some of our most popular faucet options below:
Update Your Flooring
We know that updating your flooring can be a daunting task. However, it will definitely be worth it if you're interested in adding value to your home. When someone walks into a house, flooring is one of the first things their eyes are drawn to. If your home is a little older and your flooring has seen better days, then updating your flooring can be one of the best home improvements you can make. You might want to rip out your old, shaggy carpet and replace it with some elegant hardwood floors.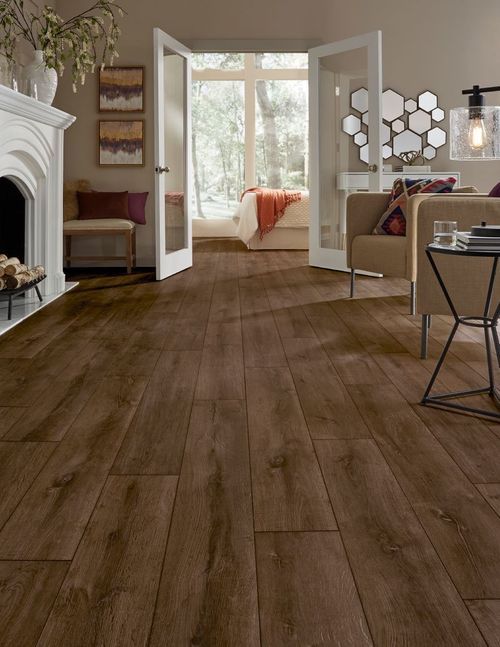 Hardwood floors do not need to cost you an arm and a leg. You can use real wood for your floors or a plastic laminate. Both laminate and hardwood have their pros and cons. For example, laminate is much less expensive and easier to clean. Hardwood floors are much more costly, but they do look more refined.
Luxury Vinyl Tile, while a bit pricier than laminate, is more affordable than hardwood and more durable. Deciding which one to install in your home will depend on personal preference and probably your budget.
Improve Your Bathrooms
When it comes to increasing the value of your house, the best home renovations you can make are in your bathrooms and kitchen. Improving your bathroom can be as simple as replacing a mirror or countertop or adding some backsplash tile behind the sink. If it's in your budget to redo the entire bathroom, then the sky is your limit! Keep in mind that, on average, it costs about $350 per square foot to remodel your bathroom.
Feel free to replace the faucet and lighting fixtures (like mentioned above), update the flooring, swap out the tile, or paint the walls or put up some nice wallpapers. If you don't have a lot to work with, start with replacing the lighting because it's the least expensive and can change the whole feel of the bathroom.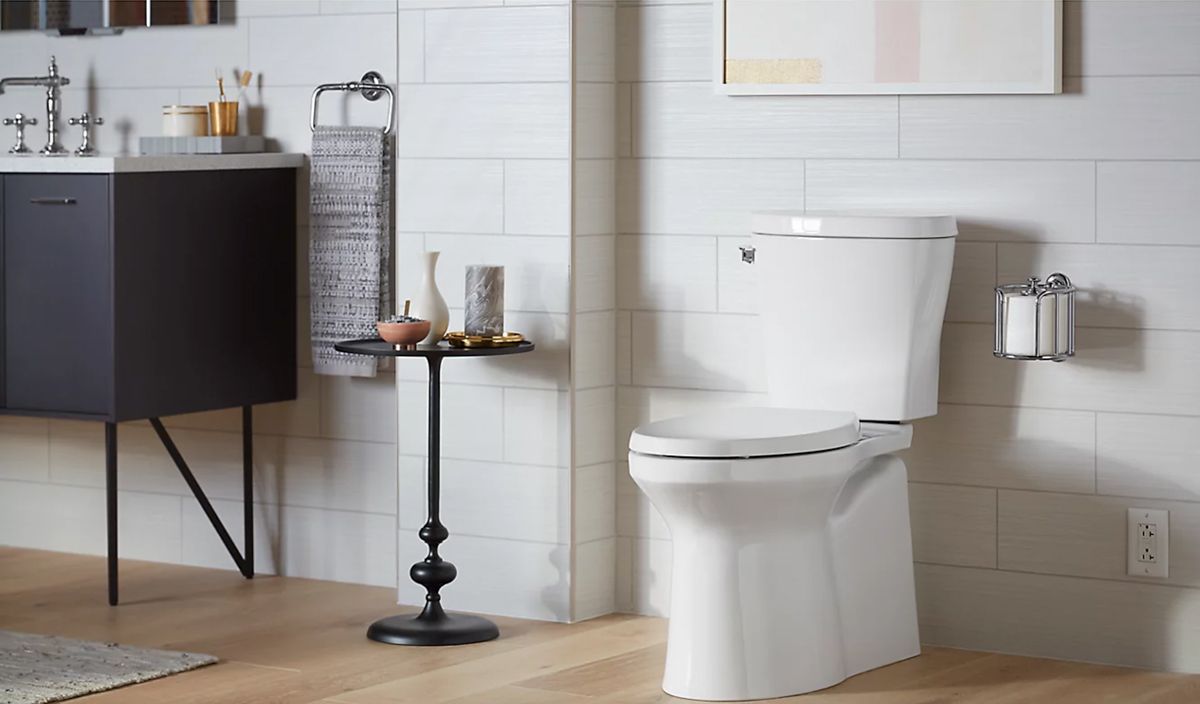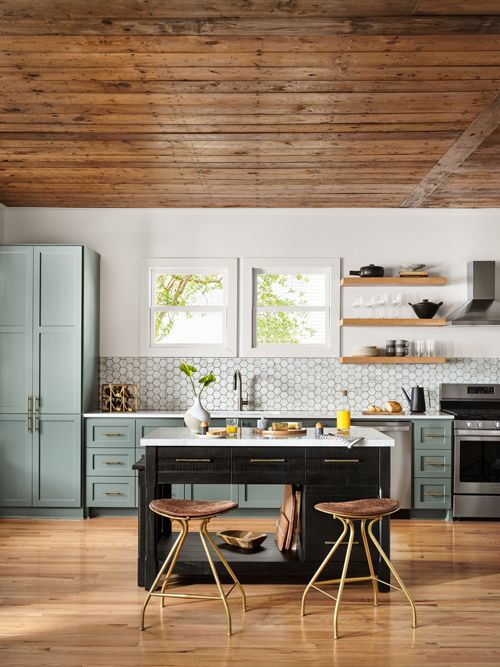 A non-renovated kitchen may sway the buyers from buying your house if you are selling an older home. Consider what's important to you and how much you can afford to remodel. At the very least, you could focus your time and money on replacing the flooring, giving the cabinets a fresh coat of paint, and installing new appliances. While a bit more expensive, updating your kitchen is a worthwhile investment—it might even be worth working with a professional interior designer.
Finish Any Incomplete Rooms
It's not uncommon to find an unfinished basement. Maybe when you bought the house you couldn't afford to finish every room. If it's within your budget, we highly recommend finishing your basement or any other unfinished rooms. Not only will this increase the value per square foot, but it will also enhance your floor plan.
You may just need to finish the walls by adding some drywall and paint and laying down some carpet. However, you may need to do a little more, like adding another bathroom or a couple of bedrooms. Do what's best for you and your budget, but keep in mind that finishing these rooms will most certainly increase the value of your home.
Enhance Your Landscaping
We've talked all about the interior of your home, but now let's discuss the exterior. When your potential buyers pull up to your home, one of the first things they notice is the landscaping. If it is not in your budget to redesign the landscaping of your yard, at the very least, you should make sure that you have healthy grass, a well-maintained yard, and clean gutters. When you know that buyers will be coming, make sure that your lawn is mowed and that you have removed any weeds from your flower beds.
To really save on money while making the exterior of your house look appealing and welcoming, put out a couple of pots on your porch with some flowers. You can even purchase mini light posts to stick into your grass, lining the walkway up to your patio. These are just a couple of inexpensive ideas to enhance your curb appeal and make sure that you give your potential buyers a great first impression of what could be their new home!
Add curb appeal with gorgeous new outdoor lighting:
Finishing Touches
As a couple of finishing touches, you could repaint your front door or garage. Since they are exposed to the sun every day, the paint will inevitably wear off or chip over time. Having that fresh coat of paint on the front door and garage will also help with the first impression of your buyers. When potential buyers visit your home, plug in some nice air fresheners that will leave your house smelling fresh and clean.
What Now?
We've covered a lot here, but don't get overwhelmed. Depending on your needs and budget, you can pick and choose what your home needs to increase its value before selling. So, where do you go from here? You might be wondering if you should do this work yourself or hire someone else.
Mike D'Elena, a realtor in Arizona, shared with us in an interview, "I would say the general rule of thumb is there are a couple of things that are easy and a couple of things that are not. I would categorize easy things like paint, changing out light fixtures, changing out hardware, and pulling on cabinets. Then there are things like laying flooring, where it can be pretty complex, and there's tradespeople just in those certain items." Essentially, you decide what is doable for you and hire out the work when in doubt.
You're ready to get started! We hope that these tips on how to increase home value have been helpful for you. Our Vevano Home designers can help you update your space and increase home value. We offer free consultations, and we'd love to help you start the remodeling of your beautiful home!