Kitchen Remodel Tips: 29 Kitchen Design Mistakes & How to Avoid Them
By Jessica Earley
February 9, 2022
Renovating your kitchen is one of the best things you can do to improve the functionality of your home while also adding significant resale value–if it's done right!
Unfortunately, there are numerous ways a kitchen remodel can go wrong, especially when it comes to budgeting, changing the kitchen layout, and choosing materials.
Whether you're committed to a DIY remodel or you're seeking the help of experts, we've outlined the most common kitchen renovation mistakes and the pro kitchen remodel tips to help you avoid them.
As you set out on your new project, steer clear of the following kitchen design mistakes with the help of expert kitchen remodeling tips and advice:
2. Mistake: Not Setting Aside Money for Extra Materials
Kitchens undergo a lot of wear and tear over time. Chances are, you may have to replace some cabinet hardware or backsplash in the coming years after your remodel is complete.
But down the road, the backsplash or flooring you purchased may be unavailable, leaving you with either mismatching materials or a whole new remodel on your hands!
Pro Tip
Consider budgeting for and purchasing 5 to 15% more materials than what the space and measurements call for. This is especially true for flooring and backsplash, but it doesn't hurt to have a few extra cabinet handles or knobs on hand either.
Not only will this help account for possible mistakes and necessary replacement during installation, but you'll have material available in the future when you need to repair parts of your home.
3. Mistake: Forgetting to Plan Your Meals
The last thing you want is being elbow deep in your kitchen remodel and getting hangry because you can't make food! One of the most common kitchen remodel mistakes is failing to plan and budget for food while your kitchen is out of commission.
Whether you're just temporarily missing counter space and cabinets or you're replacing critical elements like a stove or sink, it's going to be difficult to cook like you're used to.
Pro Tip
First, don't rip up your entire kitchen all at once if you don't have to. Try starting with just your kitchen counters first and use fold out tables as temporary counters while you can still use your stove.
If you know there will be an extended period of time you won't be able to prepare food in your kitchen–like when plumbing or electrical work is being done—consider buying a camping stove, crockpot, instant pot, or tabletop hot plate so you can still make meals at home.
Whether you plan on getting creative with your cooking methods or you opt for eating out, make sure to include food in your kitchen remodeling budget!
4. Mistake: Making Too Many Changes After Work Has Started
5. Mistake: Assuming You Need a New Layout
When diving into a full-scale remodeling project, you may want to completely transform the layout along with all your other upgrades. But if you're changing the kitchen layout just for the sake of changing the layout, you may end up with an inefficient kitchen flow and a lot of wasted time, money, and materials.
Pro Tip
To avoid this common kitchen design mistake, take a look at your current layout and compare your likes and dislikes. If your list of likes is more than the dislikes, you might be able to make smaller adjustments that still improve the overall flow but don't require placing all your appliances in different places or changing the plumbing.
Maybe just buying a smaller stove can create a better thoroughfare through your kitchen. Perhaps putting floor-to-ceiling cabinets in an existing cabinet space is more practical than figuring out how to make room for a full pantry.
In short, get creative and look at your layout possibilities from all angles!
6. Mistake: Departing from the Kitchen Work Triangle
If you do decide a new layout is in order, avoid this common kitchen layout mistake: Departing from the Triangle. What is the Triangle? It's the most ergonomic way to place your stove, sink, and fridge in your kitchen. These three major appliances should be about three feet apart from each other and should form a triangle if lines were drawn to connect them together.
Pro Tip
Before planning any other part of your layout, determine where you want the fridge, stove, and sink to go. Check to make sure they are in the triangle format and then plan everything else around them.
7. Mistake: Sacrificing Practicality for Flashy Design
Yes, what your kitchen looks like is important. But many kitchen layout mistakes begin when people focus too much on "what looks good" and not enough on how to make your kitchen more practical.
For example, it can be tempting to choose sparkly countertops, adding intricate kitchen tile designs, or installing additional fridges or ovens when you don't have the space. While they look fantastic at first, these choices could lead to harder to clean surfaces, materials that aren't suitable for everyday kitchen wear and tear, or items that get in the way of your common kitchen use.
Pro Tip
Instead of getting stuck on flashy design aspects, focus on the overall function of your kitchen. How often will you be cooking? Will your cookware be easily accessible from the stove? Is silverware in an easy location? Do you have enough cupboard space for food or is it time to add a pantry? Is your lighting bright enough and in the right place so you can see while you're chopping food? Is there a spot for all of your small kitchen appliances with easy access?
These are just some of the questions that can get you thinking practically about your upgrades. And of course, if your budget and your space allows a few fancy touches, go for it!
8. Mistake: Blocking Flow of Traffic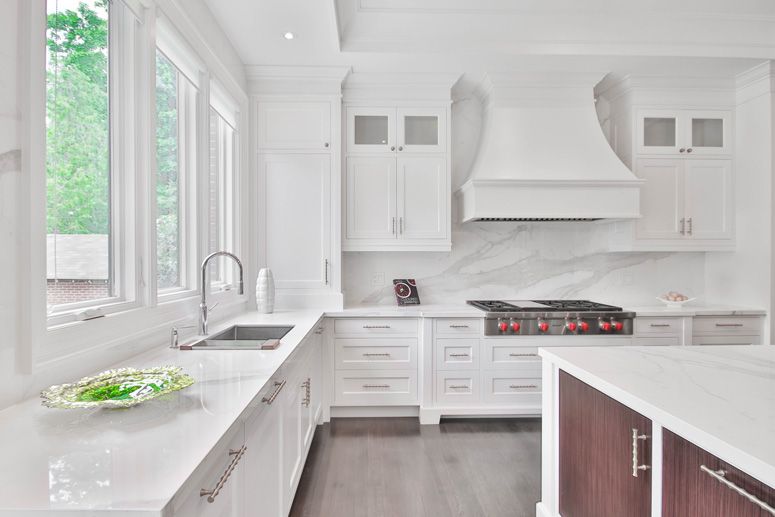 When your kitchen is an access way to other rooms in your home, it can be easy for your kitchen remodeling plans to get in the way.
Kitchen cabinets can stick out too far from the wall and make the walking space more narrow. Fridge or oven doors can block your path when open. If a pantry gets placed in the wrong spot, looking for snacks may temporarily trap someone else in another room!
Pro Tip
To avoid this common kitchen layout mistake, pay attention to where your doors will open–especially on your appliances.
A good rule of thumb is to make sure that any cabinet, fridge, oven, or pantry doors that face opposite each other are at least four feet apart. This will typically allow enough room for someone else to safely walk behind you while you're searching for pots and pans or opening the hot oven.
9. Mistake: Not Planning For a Pantry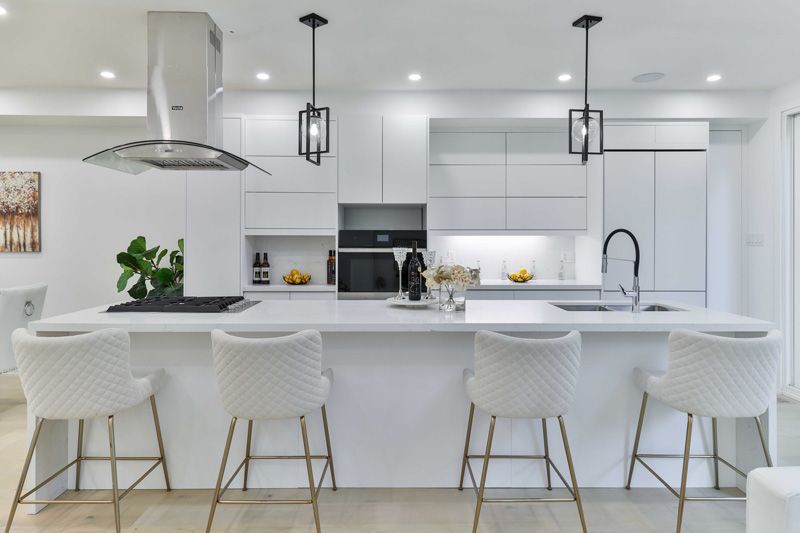 There's nothing worse than getting halfway through your kitchen renovations and realizing that you don't have enough space to store all of your non-perishable food items–especially if you didn't have a pantry to begin with.
While abundant cabinetry can provide enough storage space, you might regret not having a dedicated pantry if you have to climb on your counters to reach food on the top shelf.
Pro Tip
Always evaluate whether or not you have space for a pantry if there isn't one already there–and double check your priorities before removing an existing pantry when changing up your layout!
Check with a general contractor or builder to see if it is possible to turn unused corner space into a walk-in pantry. If you're working in a small space, consider creating a floor to ceiling cabinet pantry rather than a walk in one.
10. Mistake: Forgetting a Place to Put Trash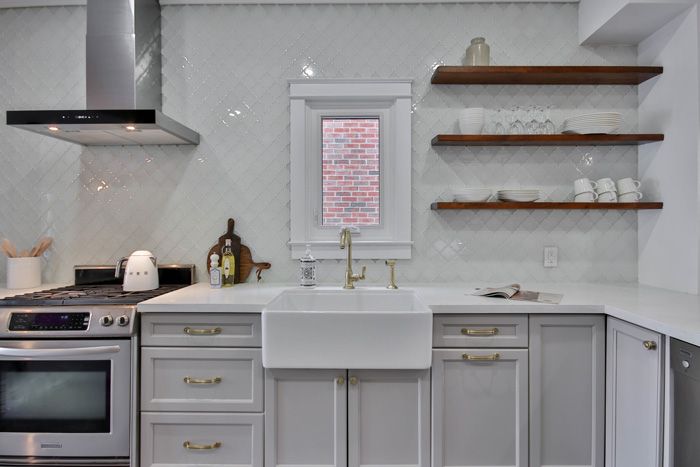 Have you ever been in a kitchen where it seems like you're constantly bumping into the garbage can? Or maybe one where it's stored so far away that you accidentally drop things on your way there? Don't forget to find a convenient way to store your trash can!
Pro Tip
One of the best ways to store a trash can is by integrating storage into your cabinets!
If you have the space in an island or other cabinets under your countertops, try adding a pullout shelf that holds up to two 27 quart trash cans. This not only hides your trash away but can be helpful when preparing food on the countertop above.
Simply pull out the shelf and scrape your food scraps straight into the garbage can! You can also plan for trash cans by adding extra clearance between the end of a countertop and the opposite wall or making space for it inside a walk-in pantry.
11. Mistake: Squeezing in a Dining Area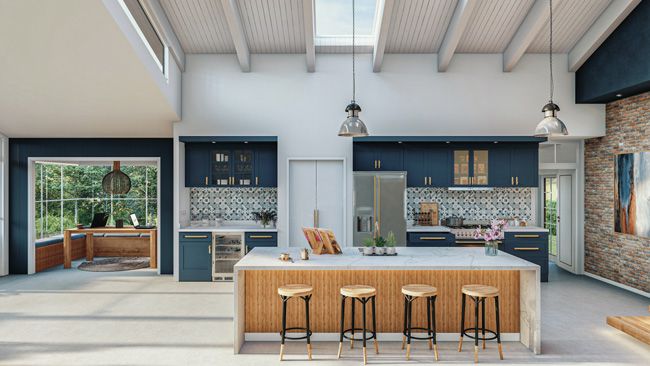 Kitchen renovations can be a great time to make your space more functional for entertaining. However, some spaces just aren't big enough for adding a dining area no matter how bad you want one!
Creating a dining area when there just isn't room can lead to inadequate counter space, clogging up thoroughfares, or sacrificing storage space.
Pro Tip
First, think about function. Make a list of nonnegotiable functionalities you want for your kitchen. If adding a dining area will interfere with those, rethink your need for a dining area.
Second, evaluate your family's meal habits. If you're someone who eats on the go or rushes through meals, a few barstools and a kitchen overhang may be all you need for dining. But if you enjoy hosting large gatherings and throwing dinner parties, making room for a dining area may be worth the cost of creating one.
There are other ways to have a dining space near your kitchen that won't take major adjustments or use up better utilized space. For example, you can integrate seating into your kitchen island or create a bar attached to some of your countertop.
Have you ever gotten a cabinet door handle stuck on the one next to it? Do your cabinets have dents and dings from bumping into each other when you open them?
This can happen if you aren't looking closely at which direction your cabinet doors are swinging, especially when they are in the corners. Putting appliances like fridges and ovens too close to corners can also make it hard to access all the storage you have.
Pro Tip
Make sure all your corner cabinets swing open in the same direction so that if you open them at the same time, the doors won't catch or block each other. If you keep the triangle rule in mind with appliances, this should also help ensure that they don't block corners.
13. Mistake: Underestimating How Much Storage You Will Need
When planning your kitchen, it can be easy to underestimate how much storage space you will need, especially if you are planning on upgrading small appliances and other kitchen items during the process. The last thing you want to do is run out of space to store your food and dishware shortly after finishing your remodel.
Pro Tip
You can create enough storage space in your kitchen by considering your current household size and planning for extra growth.
For example, a fridge should have 5-6 cubic feet of space per person over the age four. If abiding strictly by the formula, a family with two adults and two children would need a fridge that has at least 20 cubic feet of storage space. However, because children will grow, we recommend getting a fridge that's at least 24 cubic feet.
When looking into pantries and food cabinets, we generally recommend having at least 14-18 cubic feet per person. Standard cabinets (12" x 36" x 36") typically contain 9 cubic feet of space. Standard pantry closets (3' x 2' x 8') have 48 cubic feet. Once you've figured out all the storage you need for food, you can dedicate the rest of your storage space to dishes and appliances.
14. Mistake: Squandering Wall Space
One of the most valuable parts of your kitchen space are the walls! But many homeowners don't find ways to use walls to their advantage when trying to create enough storage space. Placing clunky decor or choosing cabinets with elaborate trim can use up valuable space for smart storage.
Pro Tip
Consider finding wall cabinets that have shelving and storage all the way to your ceiling instead of having open space above them. At the top of these cabinets, you may want to store items you less frequently use, like special serving dishes or fine china.
Your wall can also be a great place to install your microwave rather than cluttering your countertop. Also, if you're an avid baker and want a second oven, it may be worth it to install wall ovens on top of each other and integrate a stove top into your counter.
15. Mistake: Not Breaking Up Cabinet Blocks
While you may want to cram as much cabinet storage as possible into your kitchen, this can create large blocks of cabinets that make your kitchen feel smaller and darker.
Pro Tip
Mix your cabinets with other kitchen features to add metaphorical whitespace to your kitchen walls. Break up your cabinet blocks with your stove and hood, a wall mounted microwave, or open shelving. We love framing kitchen windows with cabinets when possible, usually where you place your kitchen sink.
16. Mistake: Insisting on a Kitchen Island
There are so many advantages to having a kitchen island, like additional storage, food prep space, deep sinks, and more. Throughout the past few decades, kitchen islands have become a standard feature in most homes.
However, owners of older homes can run into space issues if they insist on having an island when the amount of kitchen space doesn't allow for it.
Pro Tip
If you don't have room for a new kitchen island, ask yourself which functional problems you are trying to solve by installing an island, and then get creative in finding other ways to solve those problems.
For example, a countertop bar can provide the kind of seating you wanted at your island. Additional cabinets or a new pantry could help provide storage solutions. For smaller spaces, it may be helpful to get a rolling island that can double as regular countertop space when it's stored against the wall.
18. Mistake: Inadequate Counter Space—Especially Near Cooking Appliances
Have you ever burned your fingers taking extremely hot things out of the microwave because it takes several steps to get to a counter or table? Do you find your arms full of food from the fridge but there's nowhere to set it?
This means you don't have enough counterspace! High functioning kitchens have lots of convenient places to set hot, heavy, or bulky items so you can avoid dropping things and potentially getting injured.
Pro Tip
When planning your layout, make sure that you have counter space close to your microwave, stove, oven, and fridge.
We recommend having counter space directly below a wall mounted microwave and counter space on both sides of your stove. Also, having counterspace directly to the side of your fridge or a minimum of three feet across from it can keep you from dropping ingredients.
19. Mistake: Using Dark Colors in Small Spaces
Though dark colors can match certain aesthetics, they can make your space look smaller than it actually is. That may work for a large, open kitchen, but small kitchens can appear cramped and crowded if too much of the walls, cabinets, countertops, appliances, or flooring is dark.
Pro Tip
To avoid this kitchen design mistake, opt for brighter colors in small kitchens instead. You don't have to avoid dark colors like black or gray entirely, but they should be used in smaller elements as an accent rather than the overall color of the room.
Consider installing light brown, cream, or white cabinets and contrasting that with a darker countertop. The brightness of stainless steel appliances may be better than choosing black.
White or cream walls are always a good choice in small spaces, but if you want some color try to stick to bright and light shades.
20. Mistake: Insisting on an Opening Kitchen Plan
It's true that having an open kitchen plan can create a feeling of extra spaciousness and help your family have a feeling of togetherness while doing different activities. But there are a lot of disadvantages of open kitchens you might not think of at first.
There aren't walls to block the noise of doing dishes or the loud humm of a fridge. Strong smells from food prep, cooking, or trash more freely waft into other rooms in your home, requiring more frequent cleaning.
Also, opening your kitchen up can significantly increase the cost of your renovation if you have knock down walls to make it happen. Improperly assessing the impact of removing walls could also lead to structural issues later. And on top of that, you also have to take more care to match the decor and style of your living and dining room to your kitchen.
Pro Tip
First, assess how feasible it is for your budget and your space to create an open kitchen before you start your renovation. If it's not going to work, consider other layouts that still help you feel spacious.
If you still want to see into your living room but need the structural support of that wall, you could do a wall cut out kitchen bar instead.
21. Mistake: Not Considering All Angles
If you already have an open kitchen layout or decide to create one, it can be easy to forget the impact your kitchen upgrades have on other furniture and decor. You have to look at your home from all angles!
Are you sure your couches won't clash with the cabinets you choose? Are your rugs or other decor the same style you're upgrading your kitchen to? Does your kitchen table go with everything? It's possible that remodeling to an open kitchen can turn into upgrades for your dining and living rooms too, which requires a larger budget and more coordination.
Pro Tip
If budget is a concern, and you already like your dining room or living room, choose new kitchen cabinets and countertops that match. If you're working with a designer and have 3D renderings, ask them to include your dining and living room too so you can check for overall cohesion.
If you have a bigger budget and more time, it may be helpful to plan your kitchen, dining, and living room renovations all at once.
22. Mistake: Choosing Too Many Busy Patterns
Choosing fun patterns, different shapes, flashy tile, and busy countertops can be fun, but when you put them all together it could make your kitchen look cluttered and chaotic.
Pro Tip
Pick a focal point and plan all your other kitchen details around it. Keep them simple and complementary to each other.
23. Mistake: Laying the Wrong Flooring
Upgrading the flooring in your kitchen takes up a significant portion of your remodeling budget, so you want to make sure what you buy will last.
But some homeowners hope to get more out of their budget by buying cheap flooring that has to be replaced just a few years after a remodel. Or they find flooring they love, but when it's delivered they discover that it clashes with cabinets or appliances.
Pro Tip
Kitchen floors have a lot to put up with! Start by finding flooring that puts durability first. Here are some properties to watch out for: waterproof; stain, scratch, scuff resistance; easy cleaning; and stable under extreme heat changes.
Once you find a flooring that has the durability you want, order samples of different colors and finishes so you can match it with other elements before installing or ordering flooring. For more details on flooring types, check out our ultimate guide to flooring.
24. Mistake: Choosing Materials That Are Hard to Clean or Install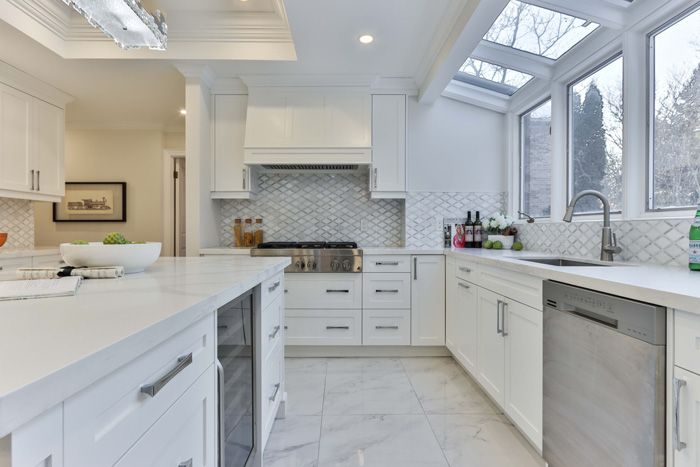 A common mistake in kitchen renovations is choosing materials and items that give you your desired look but end up being hard to install or even harder to keep clean.
Pro Tip
Make smart design and installation choices. For example, click-lock flooring options will be much easier to install than glue down varieties, especially if you're doing DIY renovations. Pre-assembled cabinets reduce the time it takes to install them. Glass refrigerator shelves catch spills that would drip right through wire shelves. Undermount or solid piece sinks prevent crumbs from catching in grooves. Matte finishes don't show dirt as much as glossy ones do.
25. Mistake: Too Much Open Shelving
Open shelving is a common design trend that can allow you to display beautiful, coordinated dish sets or serving dishes.
But if every cabinet in your kitchen is open, things can quickly look messy if dishes are put away chaotically by young children or if you end up needing to store food on the shelves when you run out of room in your pantry. Open shelving also causes dishes to collect dust more quickly.
Pro Tip
Consider a mix of traditional cupboards and open shelving. Plan to display your best, most coordinated collections of dishes on open shelves. Put everyday dishware, plastic items, small appliances, and food in your cabinets.
26. Mistake: Not Including Enough Electrical Outlets
One of the most frustrating kitchen mistakes is not having enough electrical outlets! Are you the kind of cook who needs to plug in a blender, toaster, griddle, Instapot, and more all at once? Or maybe you just always need an outlet to charge your dying phone as you make your newest online recipe.
Older homes are particularly likely to have less outlets than your family needs, so upgrading your electrical outlets will be an important part of your renovation.
Pro Tip
Your electrical outlet plans should start by meeting the standards in the National Electrical Code established by the U.S. National Fire Protection Association. Here are some of the basics: outlets should be no more than 48 inches from each other, any countertop more than 12 inches wide should have an electrical outlet, and outlets should not be more than 20 inches above the countertop except in kitchen islands or when accommodating disabilities.
Electrical codes can be adapted locally, so make sure to find out the exact code requirements when planning your remodel. Following these standards should help you have enough outlets for everything you need. Consider installing four plug-ins at each electrical port instead of just two. You can also find outlet configurations that have built in USB ports for phone chargers.
27. Mistake: Neglecting the Existing Plumbing
One of the biggest kitchen design mistakes you can make during a remodel is failing to consider plumbing.
When designing a new kitchen layout, it may seem like a good idea to put your sink in a new spot or get a fridge with a built-in water dispenser. But many homeowners underestimate the practicality of moving plumbing to accommodate new additions and get stuck with a pushed back timeline and significantly extra costs.
Pro Tip
Make sure to check all your plans with a plumber before you get started. You may have to build your design around what's possible rather than the most aesthetically pleasing arrangement. Changing your design is a lot easier than having to figure out what to do with material and units that don't work.
28. Mistake: Forgetting about Lights
Many homeowners forget to plan for new lighting fixtures when renovating kitchens, especially if their space already has a lot of natural light. The last thing you want is for light so dim it's hard to see what you're chopping or to bump your head on a pendant light that's hung too low.
Pro Tip
Choose appropriate kitchen lights for each of these three categories: ambient lighting, task lighting, and accent lighting.
Ambient lighting will be your brightest and most illuminating set of lights in your kitchen. You would typically turn these on when you need to see all details of your kitchen, like when you're cleaning or prepping food. Typically ambient lights are set in your ceiling and can be flush mount or recessed lights.
Tasking lighting is meant for illuminating your counter or stove top for detailed tasks. You can install linear track lighting on the ceiling (usually over a bar or island), undercabinet lights to focus on your countertops, or hood range lights over your stove.
Accent lighting should be installed to compliment the ambient lighting you install. Pendant lights are the most popular today, but you can also find wall sconces and chandeliers. Here are some tips for properly hanging pendant lights. For standard eight-foot ceilings, you should hang your pendant lights between 10 and 12 inches below the ceiling plane. Add about three inches to your pendant light for each foot taller your ceiling is so it's not awkwardly hung from the ceiling.