How to Find The Best Utility Sink For Your Home
By Mikael Short
January 19, 2022
Utility sinks are the workhorses of all household sinks, and they need to be built for such. These multi-functional watering holes have a host of usages, not just limited to laundry.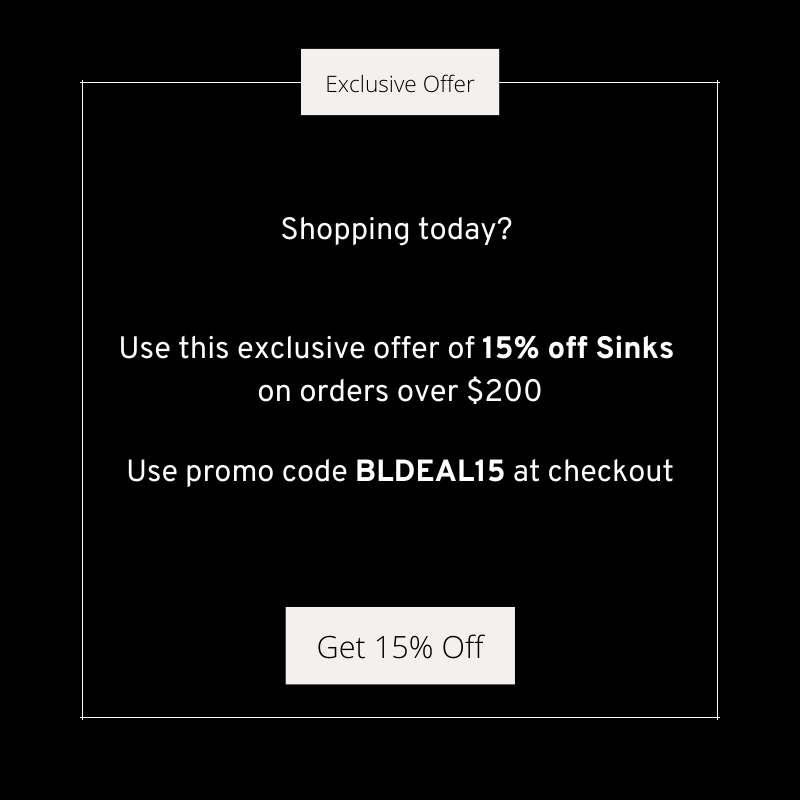 The main distinction for a utility sink, compared to kitchen or bathroom sinks, is the focus on durability and functionality, as well as the ability to resist stains, heat, and handling messier nuisances like mud and other grime.
Utility sinks may be found in the laundry room as laundry sinks. However, utility sinks can add useful functionality to your garage, basement, mudroom, or even outdoors.
With a wide variety of versatile sinks available, here's how to identify the best utility sink for your home.
You may recognize a utility sink by any number of its other monikers: laundry sink, garage sink, basement sink, shop sink, slop sink, mud sink, tub sink, wash sink, or mudroom sink. No matter the name, the purpose is likely similar.
Utility sinks can be used for just about any kind of cleanup, from hand washing or pre-washing laundry, to bathing Fido, to rinsing down dirty boots and tools, and even as an assist while mopping.
Determine how you plan to use your utility sink to select the best one for you.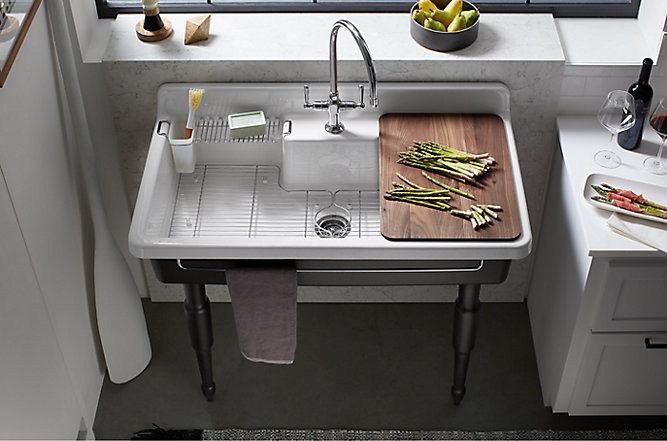 Utility sinks come in a variety of styles, much like a kitchen sink or vanity sink. However, these are the most common and recommended styles for utility purposes.
Drop-in
Drop-in utility sinks are the easiest to install as you can drop them into the countertop sink hole. Just make sure to reinforce the cabinetry below if it's a heavy material.
Undermount
Undermount utility sinks are handy since they don't have a rim that dirt and grime can hide under or that fabric or thread can snag on. They require clips and adhesive to stick to the bottom of the countertop.
Wall-mount
You can save space by installing a wall-mount utility sink to the wall. Also called flush mount utility sinks, these are ideal in spaces where there's no cabinet sink space.
Farmhouse
For a bit of nostalgic charm and ease of access, the apron-front farmhouse sink is a spacious and stylish option for a utility sink.
Freestanding
Freestanding utility tubs with four legs may be most useful in a garage, mudroom, or other utility space. Typically they come in industrial styles, made with steel or cast iron.
Most commonly you'll find utility and laundry sinks as single-basin sinks that are big and deep to avoid splashing, whether you're washing laundry or the dog.
Double-basin utility sinks are also useful, especially if you need two basins for washing and rinsing, mopping, or other double duty activity.
It all depends on what you're planning to use your utility sink for to know what you need.
Sinks come in a range of sink sizes, so size is important to consider when shopping for a utility sink or laundry sink. The best utility sinks are wide and deep. However, your needs should also come into play in selecting the right utility sink for your home.
A utility or laundry sink is often within a certain size range to handle its multi-purpose capabilities. You can find small utility sinks to optimize space or a large one to handle any cleanup needs your household has.
Consider how you'll use your utility sink to know which size will work best in your space.
Common Laundry Sink Sizes
21 Inches
The smallest and one of the most common laundry sink sizes, often in a rectangular shape within a sink base cabinet. Found commonly in undermount or drop-in styles.
22 Inches
A popular size for laundry rooms since they come in a variety of styles, like undermount, drop-in, and wall-mount (to save space!).
25 Inches
Another desired utility sink size, especially since this is the smallest size available in most farmhouse utility sinks. This size is also common in wall-mount or drop-in sink styles.
31 Inches
You need a good amount of space to put in a 31" utility sink, and it can be really useful if you need that extra room. At 31", double-basin sinks are common, with one side for washing and the other for rinsing (or any other cleanup duties). This is also a size where more variety in material and style options are available. It's typically larger than most drop-in or undermount sinks, but smaller than most wall-mount sinks that would work well in a laundry room.
35 Inches
One of the largest sizes you can find in a utility sink (though some single-basin laundry sinks may range up to 48 inches). Sinks this size are usually double-basin sinks, often made with fireclay or stainless steel.
Choose the best size that makes sense with the space you have in your home by measuring the dimensions you have.
How to Measure Your Utility Sink Dimensions
When it comes to measuring your sink (or for a new sink), you'll need the length, width, and depth to ensure a proper fit, regardless of shape.
For length, measure from one outer sink lip to the opposite side (for most sinks), or from the edge of the counter to the other edge lengthwise (for undermount or farmhouse sinks).
Do the same to measure the width, making sure you measure from lip to lip or from countertop edge to edge, depending on the type of sink.
For depth, measure from the top of the sink, or where it meets the countertop, to its deepest point. Utility sinks may range in size from 8" deep to more than 24" deep.
For farmhouse sinks, also get the exterior depth by measuring the depth, or height, of the exposed apron-front side.
For round and oval sinks, measure the diameter, or the length across the widest part of the sink.
With your utility sink dimensions (check them twice!), you can shop for a new sink in the right size.
Best Utility Sink Materials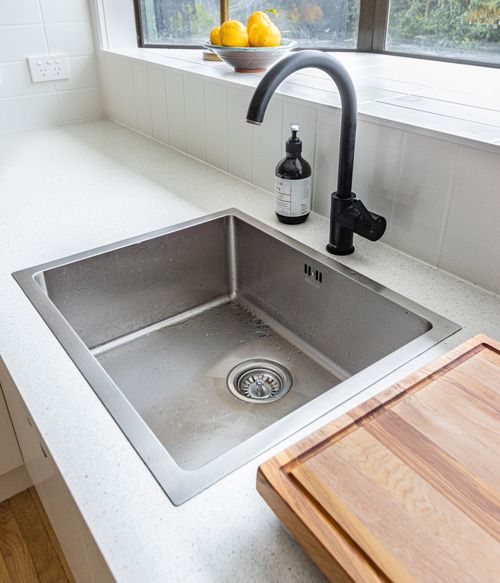 Since durability is key for a utility sink, here are the best sink materials to stand up to what a utility sink may face. Consider what material will work best with your functionality needs and your budget.
Stainless Steel
This sturdy standby is antimicrobial, resistant to rust, and is very durable, making it an optimal choice for utility sinks. Stainless steel laundry sinks are prone to scratches and dents, and also tends to make noise, but that can be fixed with noise dampeners upon install. Thicker gauge steel (considered low gauge) is stronger, quieter, and less prone to denting; though it may be more expensive. Stainless steel's neutral sheen also goes with most design styles.
Granite Composite
Granite composite is one of the strongest sink materials available, making it a superb option for utility sinks. It's resistant to staining, chipping, and scratches, plus it's easy to clean and can handle the heat. However, granite composite sinks are pretty hefty and may require strengthening of the base cabinets below to handle its weight. Granite composite sinks also come in multiple colors to match your desired style.
Cast Iron
Another heavy-duty option is a cast iron laundry room utility sink. Durable and beautiful with a non-porous enamel coating that can come in different colors, cast iron sinks are not uncommon for utility sinks. The only thing is that the enamel may require more frequent cleaning with mild detergents and baking soda. Abrasive cleaners and harsh chemicals may cause the coating to stain.
Heavy objects falling cold also crack or chip the enamel, exposing the iron beneath to rust. A grid on the base can help protect a cast iron utility sink from such drops. Reinforcements for cabinets and even professional installation may be required for cast iron sinks due to their heft.
Fireclay & Ceramic
Fireclay (including porcelain and Vitreous China) and ceramic sinks are beautiful, hardy, and fairly durable, making them strong against stains, scrubbing, and high temperatures. It's also resistant to rust, acid, and fading. It's also easy to clean and maintain with standard dish soap and water, or baking soda for tougher spots. However, it may be prone to cracks though from heavy or dropped objects. A grid along the bottom of a fireclay utility sink may be worth adding depending on your use. A more affordable, less hardy option to the cast iron variety.
Copper
Copper is a premium material for utility sinks due to its handcrafted nature and beautiful patina that develops over time and with heat. It's also even more antimicrobial than stainless steel, which means you won't have to worry about mildew forming if you leave laundry in the sink. Like stainless steel, though, choose a lower gauge (thicker) copper to prevent denting. Maintenance should be a consideration for a copper sink, as hot utensils and acids can stain it.
Acrylic / Resin / Plastic
Other utility sinks are made of acrylic, resin, or plastic composite—often called solid surface sinks—since they are moldable, durable, lightweight, and affordable. They don't handle heat very well, are prone to scratches and scuffs, and may not last as long as other sink materials.
How to Clean Utility Sinks
A mild detergent and water is a simple way to regularly clean most utility sinks.
For a deeper clean, fill it with warm water and a few capfuls of peroxide or ammonia (as long as it's not copper or bronze) to remove any mildew-causing bacteria.
For tougher to remove stains such as paint, use a putty knife to remove as much as you can before soaking the sink in water and detergent (some recommend WD-40 for 15-20 minutes to remove paint stains, depending on the material). Then, use the putty knife again or a nylon scrubber (not steel wool) to remove any remaining marks.
After each use, remember to rinse the sink to remove any remaining cleaners or debris.
Always consider the material of the sink to ensure it is cleaned properly, and don't ignore manufacturer cleaning guidelines. We also have an in-depth sink cleaning guide for more sink maintenance tips.
Best Utility Faucets to Pair with Utility Sinks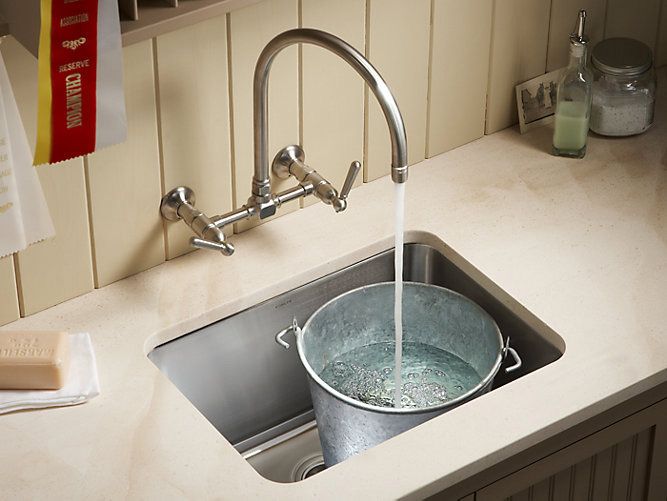 Any utility sink is incomplete without a faucet. The best utility faucets will prioritize function over style, but you may also want to coordinate the look of your faucet with the style of your sink to match your chosen aesthetic.
A utility faucet, with the option to attach a hose for rinsing, is a natural pairing for a utility sink, especially those in a mudroom or garage. They often come without aerators to filter the stream, allowing a stronger flow of water to handle any mess.
Wall-mount utility faucets are also common, as opposed to being mounted on the countertop or sink deck, since some utility sinks are freestanding or wall-mount or have limited surrounding countertop space.
Two-handle faucets are also useful for utility sinks so you can control the water temperature easily with one lever controlling hot and the other cold. With simpler construction than single-handle faucets, two-handle faucets last longer and are less prone to leaking. Most utility faucets are of the two-handle variety. For added vintage style, a bridge faucet is also a two-handle faucet that also exposes the plumbing around the spout and handles, creating the look of a bridge.
Pre-rinse faucets work great with deep utility sinks and are particularly handy for cleaning pets since they have a flexible roto-flex spout and added water pressure.
And both pull-down and pull-out faucets are a good compliment to a utility sink, with the pull-out option being more common in a laundry room thanks to its longer hose.
The key is to match the faucet with the sink and the functionality you need.
Make a Utility Sink Your Friend
With these tips, we hope you can identify a multi-purpose utility sink and faucet pairing that works for you, your budget, and meets your household's needs to handle any laundry, mud, or other messes you commonly see.
If you're planning for a new laundry room or utility space, our designers would be delighted to help you. Reach out today.