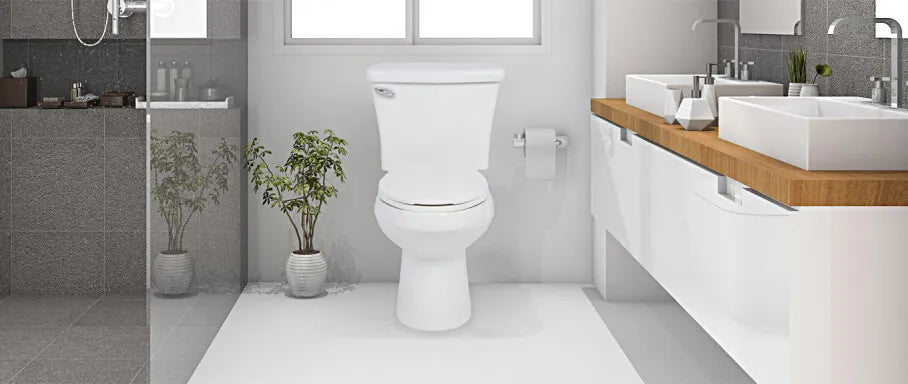 Add Comfort & Ease
Browse our name brand toilets, bidets, parts, and accessories to update your bathroom.
SHOP NOW
Find Your Perfect Toilet or Bidet to Complete Your Bathroom
Browse our collection of toilets, bidets, parts, and accessories to complete your bathroom remodel. With colors ranging from cotton white to sedona beige to silver, we have a wide selection, making it easy to find the right style (and right toilet size) for your bathroom.
Shop one-piece toilets for an easy-to-install classic or two-piece toilets for a budget-friendly option. For a touch of luxury, shop our toilets with built-in bidets, or bidet seat attachments to integrate with your existing toilet.
One-piece toilets are where the entire fixture is one complete piece. This saves space, involves a smoother design, and is great for a fast, easy installation. What's more is that one-piece toilets are generally easier to clean.
If you're trying to stay within a budget, a two-piece toilet may be the best choice. Two-piece toilets won't break the bank and they come in a variety of sizes and styles. Since the tank and bowl are separate pieces, this makes maintenance or replacement easier if you ever needed to change one or the other.
Bidets provide additional cleaning for a more sanitary bathroom experience. Whether you go for a built-in bidet toilet or a bidet seat attachment for your existing toilet, you will have a clean, eco-friendly way of staying clean.
Wall-hung toilets keep the tank behind the wall, saving space and providing a sleek look. This is a great option if you have a smaller bathroom and want to save on floor space. Another great benefit of a wall-mounted toilet is that you can choose how high or low the seat is so that it's in the most comfortable position for you.
From seats to tanks to bowls and other parts, we have it all. Shop our collection of toilet accessories to complete your toilet and bathroom today.