The Ultimate Guide to Flooring: Everything You Need to Know
This information will leave you floored!
By RaShea Drake
December 12, 2019
To find out more about which flooring is the best for you, check out our guide below. Read from the beginning, or use the menu below to jump to the topic you're interested in.
1. Popular Types of Flooring
The flooring types we explore below are all types we offer at Vevano Home. As such, we have a deep grasp of comparative quality, durability, and affordability.
Laminate – Affordably Beautiful
Laminate floors are affordable, easy to clean, and last for years with proper care and maintenance. Learn about the costs, average lifespan, pros, cons, ratings, and installation requirements to see if laminate flooring is the right fit for you.
Cost
Uninstalled: Prices range from $1 to $5 per square foot
Installed (materials + labor): Prices range from $2 to $8 per square foot
Average Lifespan
High-quality laminate flooring with professional installation: 20-30 years
Cheaper laminate flooring with low-cost installation: 10-15 years
The Pros and Cons of Laminate Flooring
Pros:
Very affordable
Easy installation makes it a favorite among DIYers
Professional installation is also more affordable than with tile, stone, or hardwood floors
Works with radiant heating systems, keeping your floors warm during chilly winter months
Softer on your feet compared to concrete, tile, or stone
Easy to clean and care for, requiring little more than a broom and a wet mop to maintain a clean floor
Resists fading over time
Cons:
Using harsh cleaners damage laminate over time
Doesn't increase value to your home like hardwood (but doesn't detract from value either)
Susceptible to warping or staining from standing water
Damaged laminate can't be refinished and must be replaced
Can emit VOCs (volatile organic compounds)*
*To minimize VOCs, look for products that have the FloorScore Certification, which tests products for 35 types of VOCs.
What Exactly is Laminate?
Laminate consists of four layers: a backing layer, an inner core, a photographic layer, and a laminated transparent wear layer on top.
The backing layer creates a smooth base to stabilize the top layers while also providing a moisture bearer from the bottom.
The inner core is the bulk of the laminate flooring's mass responsible for supporting the weight of foot traffic and furniture. Made of fiber board or engineered wood crafted from wood fibers, in concert with a melamine resin for water resistances, the inner core largely determines the floors feel as you walk and the quality of the materials used help determine how long the floors last.
The photo applique layer gives laminate its wood or stone-like appearance.
The laminated wear layer* uses high amounts of pressure (between 300 and 1300 pounds of force per square inch) to seal the four layers together
*Higher quality laminate floors include embossed or embossed-in-register wear layer. This means that embossing in specific patterns and grains give your floors more of a natural wood look and feel.
What Makes Laminate High (or Low) Quality?
There's a lot of variation between laminate styles and durability. The main factors to keep in mind are thickness, AC ratings, and embossing. Thicker laminates tend to last longer and offer more stability. Embossing adds a pleasing texture that mimics the texture you find with wood floors. The AC (Abrasion Class) rating is used as a universal standard to determine quality. These ratings are helpful to check out as you find the right laminate for your home.
Do I Need Underlayment for Laminate?
The short answer is yes. Because the core is crafted from wood particles, laminate expands and contracts just like hardwood floors do. As such, the underlayment is necessary to protect the laminate as well as the subfloor underneath, preventing warping over time. Some laminates have underlayment attached, but for those without, you can choose from a variety of underlayment materials. Choose from foam, cork, AC graded plywood, underlayment panels, or cement boards.
Wood – The Classic Floor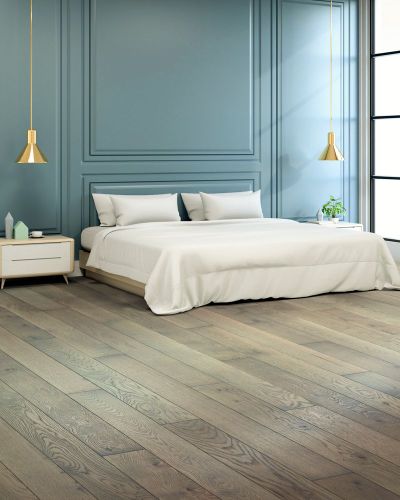 Hardwood flooring is an upgrade that adds value to your home. Learn about the costs, the ROI, average lifespan, pros, cons, and requirements for wood floors.
Cost
Uninstalled: Prices range from $3 to over $15 per square foot
Installed (materials + labor): Prices range from $6 to over $20 per square foot
Average Lifespan
High-quality hardwood with proper installation: 35-80 years
Cheaper quality hardwood and installation: 20-30 years
The Pros and Cons of Wood Flooring
*The main factors affecting this are the wood species/type, temperature, and humidity (or lack thereof). In some regions, installing a humidifier in your home is necessary to ensure the correct amount of humidity is present to prevent cracking and warping.
What's the Difference Between Solid Wood and Engineered Hardwood Floors?
Solid wood floors are made of a single piece of wood. It can be sanded and refinished many times, but is more prone to warping, difficult to install, and is more expensive Engineered wood flooring is a more affordable subset of wood flooring.
The main difference between solid and engineered is that engineered wood is made from a base core of plywood with a strip of natural, solid wood on top. While this means the floor can't be refinished as many times as a solid wood floor, this type of construction makes the flooring more resilient against moisture, warping, and buckling so it doesn't need to be refinished as often. It also provides more installation options than solid hardwood, it's compatible with walls, concrete, and below-grade floors. Engineered wood floors are also easier to install yourself and more environmentally friendly, using half as many trees as solid wood floors. Other than that, they look and feel similar.
Hardwoods and Softwoods for Floors
Hardwood is more resilient to scratching, dents, and staining. . So, floors made of hardwood species (such as maple, oak, birch, bamboo, walnut, and hickory) are ideal for high-traffic areas like living rooms, hallways, entries, and bedrooms. Hardwoods are also a better option if you have kids or pets.
Since softwoods like pine, fir, cedar, and spruce, are more susceptible to blemishes, they work better in light traffic areas. To make up for their lack of durability, many people use area rugs in conjunction with softwood floors, especially if you have furniture, younger children, or pets. They work best in bedrooms, powder rooms, and guest rooms.
Hardwood Shapes and Widths
Hardwood is broken up into three different shapes: strip, plank, and parquet. Each one provides a unique look to a room, it's all a matter of personal preference.
Strips are narrow pieces of wood that are around one to inches wide.
Planks are like strips but wider than two and a half inches.
Parquet floors involve squares of wood to create patterns or geometric shapes.
Tile looks great, works in any room, and has the versatility to achieve a wide range of styles, from subtle to ornate. Find out about the cost and lifespan. Learn the difference between wall tile and floor tile, ceramic and porcelain tile, and the different tile surface ratings. .
Cost
Uninstalled: Prices range from under $1 to over $15 per square foot
Installed (materials + labor): Prices range from $5 to $30 per square foot


The Pros and Cons of Tile Flooring
Pros:
Large variety of sizes, shapes, patterns, colors, and styles
Impervious to water with proper maintenance
Compatible with radiant heating
Works well for both floors and walls
Lasts for decades
Replace damaged tiles instead of the entire floor
Cons:
Cold, hard, and loud to walk on
Brittle materials chip and crack when heavy objects, like pots or pans, are dropped
Can be slippery to walk on when wet
Grout is not easy to clean or maintain


Is There a Difference Between Floor and Wall Tiles?
All floor tiles can be wall tiles, but wall tiles don't always work for flooring. Tiles rated only for walls are either incredibly slick, which is fine for a wall, but a disaster waiting to happen when used for flooring, or not durable enough for foot traffic. Every tile on our site lists where it's best used to make finding the right tile easy and efficient.
What's the Difference Between Ceramic and Porcelain Tile?
All ceramics are crafted from clay and hardened into durable material using heat. Porcelain is a type of ceramic, but ceramic is not always porcelain. Ceramic includes stoneware and earthenware as well. Porcelain is its own category because it's stronger, and more resistant to moisture than stoneware or earthenware, making it a popular choice for flooring. On the other hand, ceramic tile tends to be more affordable and easier to cut.
Luxury Vinyl Tile (LVT) – Not Your Grandmother's Vinyl
Vinyl has gotten an upgrade since its introduction back in the mid-20th century. While old versions of vinyl contained asbestos and could only be installed in precut sheets, today's vinyl is safer, more beautiful, and easier to install. Check out the costs, lifespan, and what exactly LVT is.
Cost
Uninstalled: Prices range from under $2 to over $7 per square foot
Installed (materials + labor): Prices range from $3 to $11 per square foot
Average Lifespan
High-quality LVT with proper installation: 15-25 years
Cheaper quality vinyl and installation: Around 10 years


The Pros and Cons of LVT Flooring
Pros:
Thicker than sheet vinyl
Wear layer features textures and beveling similar to wood flooring
Waterproof, making it a good choice for kitchens or bathrooms
Scratch and dent resistant
More insulation than vinyl sheets or laminates, providing more sound dampening.
Easier to DIY install than other common flooring types
Variety of styles, textures, and sizes
Installs over most smooth surfaces, including wood subfloors or sheet vinyl
Cons:
Susceptible to punctures from sharp objects
Emits VOCs (volatile organic compounds) over time*
Can't be sanded or refurbished
*To minimize VOCs, look for products that have the FloorScore Certification, which tests products for 35 types of VOCs.
What is LVT Flooring?
Luxury Vinyl Tiles have at least four layers, but some LVT flooring options have more than four layers. The bottom layer is the backing, a smooth base for the other layers to balance on.
Next is the core, which gives the most substance to the floor.
On top of that is a photographic layer that imitates the appearance of wood or stone. This layer can also include texture to make a tile feel more like wood grain or stone.
The top layer, the one that you walk on every day, is the wear layer. It protects the other layers from moisture, scratches, heels, pet paws, and more. It's transparent to show the beauty of the photographic layer.
While this may sound exactly like laminate, the two are different. Where laminate has a core of wood fibers, LVT has a core of vinyl, which makes it more waterproof and resistant to warping than laminate. It's also an improvement over the vinyl of the 50s, 60s, and 80s since the VOC emissions are much lower, there's no asbestos used with it, and it comes in easy-to-install tile form instead of precutting sheets.
Carpet Tile – Easy to Install and Stylish
Though often seen in corporate and commercial settings, carpet tile is gaining popularity in homes thanks to it's easy-to-personalize design and even easier installation. Learn more about the costs, pros, cons, and why carpet tile may be a good option for your home.
Cost
Uninstalled: Prices range $1 to over $4 per square foot
Installed (materials + labor): Prices range from $1 to $2 per square foot
Average Lifespan
High-quality carpet tile with proper installation: Around 8 years or more
Cheaper quality carpet tile and installation: Around 5 years


The Pros and Cons of Carpet Tile
Pros:
Easy to install on your own
Carpet padding typically isn't necessary
Comes in peel-and-stick options or double-sided carpet tape
Easy maintenance with regular vacuuming and occasional shampooing with a carpet cleaner
Swap out stained or damaged tiles instead of redoing the whole floor
Customize designs and colors to your preferences
Works with modern or industrial looks
Easy to change as your style changes
Installs over most smooth surfaces like concrete or plywood
Cons:
Doesn't last as long as LVT, tile, wood, or laminate
Edges can start to fray or curl as the glue underneath wears out
Not a lifetime type of floor
Doesn't add any value to your home
What's the Difference Between Carpet Tile and Broadloom Carpet?
Broadloom carpet is the most common type you'll find in homes. It comes in large, bulky rolls, and is stretched from wall to wall. This makes broadloom carpet very difficult to install, requiring an underlayer of padding to be installed underneath it, special tools to stretch it, industrial strength glues and staples, and a lot of sweat. It's the type of installation not typically recommended for DIYers, as it's best left to professionals.
Conversely, carpet tiles come in easy-to-handle squares with the adhesive already on the underside of the tile. Most of the time an underlayer isn't needed and stretching is not needed,, allowing you to install it immediately without special tools or sweat. . In addition, when broadloom gets damaged, you have to replace the whole carpet. But with carpet tiles you, only need to replace the damaged carpet tiles.
2. Flooring by Room
Each room in your home is used in different ways with different amounts of wear. Your bedroom floor doesn't get the same traffic as your kitchen floor. And your kitchen floor doesn't get the same wear as your mudroom floor. As such, here are our top recommendations for each room in your home.
Best Flooring for Kitchens
The kitchen likely receives the most foot traffic in your home. On top of that, it's susceptible to spills, scraping chairs, and falling pans or knives. As such, kitchens need a durable, beautiful floor.
We talked with three home experts about their recommendations. Surprisingly, all three mentioned tile flooring as their top choice because of its durability against spills and wear from foot traffic. Since tile comes in a myriad of designs, widths, and styles (including wood or stone looks), it's a good choice. Its most significant drawback is that it's cold to walk on with bare feet and lacks the cushioning of other flooring types.
"Kitchen floors need to be durable as well as easy to upkeep. There are options for ceramic woodplank tile that stand up to water, are easy to clean, and look like a million bucks." – Michelle Mumoli, CEO, Mumoli Group
Like kitchens, the biggest consideration when choosing a bathroom floor is water. More so even than kitchens. Bathroom floors need to withstand steam from showers, wet footprints, and spilled water outside the tub for years. So our top recommendation is tile with a high slip resistance.
"Bathrooms should have tile, especially if it's a full bath with shower or tub. The tile should be slip-resistant. You can use vinyl flooring or plank flooring, but that's not going to last as long against water." – Daniel Quindemil, Certified Building Contractor, Architect, and Consultant, I AM Builders
While kitchens and bathroom flooring need practical flooring, living room floors are a matter of personal preference. Since living rooms have a lower chance of moisture problems and are typically low-traffic areas, you have a wider range of options. However, we think hardwood floors are ideal because they last for decades, match any style aesthetic, are easy to clean, and add value to your home.
"Hardwood flooring can be inexpensive, easier to clean, and adds additional value to your property. We would recommend carpeting your stairway if you have one because carpeting dampens noise." – Cheng Zhang, Realtor
Bedrooms are all about comfort and style, making it another area where the flooring is up to your personal preference. Carpet tile adds a touch of warmth, while hardwood inspires a beautiful, classic look when paired with matching bedding, nightstands, dressers, and bed sets. If hardwood is too much for your budget, laminate and LVT provide the same style of hardwood, but at a much lower price point . The bedroom is also a great place for area rugs or runners – imagine leaving your bed on a winter morning to be greeted by a warm, plush rug under your feet instead of a cold, hard floor.
"I love the look of wood for a bedroom floor. It anchors the room, adding a beautifully natural look. Plus, there are dozens of colors and finishes from light oaks to deep, rich walnuts." – Megan Cowen, Interior Designer, Vevano Home
Best Flooring for Entries and Hallways
Hallways and entries are high traffic areas, so look for durable, long-lasting flooring that's easy to clean. Imagine how often you need to mop or sweep dirt, mud, and grass from your entry area. Choosing stain-resistant flooring is necessary to ensure those grass stains don't settle in.
The top recommendations from our experts are hardwood or tile, specifically ceramic tile with a wood-like appearance. For dryer climates, hardwood works well, but if you have harsh winters or wet climates, tile and LVT are better options.
"Tile or LVT are both beautiful and easy to clean when outdoor elements get tracked in. Mud, grass, leaves, and dirt are all much easier to clean from tile than carpet. LVT and tile are also more waterproof than laminate, so you won't see warping." – Martha McNamara, Director of Design and Product, Vevano Home
If you're worried about floors becoming slick, add a rug to provide traction and style. It's much easier and more affordable to replace a rug than flooring.
Best Flooring for Basements
Depending on your home's age and climate, moisture in your basement can be a problem. Basements are prone to flooding, even in dry climates. All it takes is a small crack in the foundation or wall and even sprinklers from your yard can end up flooding a basement. As such, our experts warned against using carpet because it usually has to be replaced to prevent mold if the basement floods even a little bit. Instead, they recommend a floor that's easier to clean and easier to dry out in case of excess moisture.
If you have bedrooms, bathrooms, or family areas in your basement, we recommend carpet tiles, LVT, or tile. Carpet tiles are a bit warmer, but easy to replace if damaged. Both LVT and tile are waterproof to protect your basement. While tile is cold to the touch, area rugs and runners add more comfort and warmth.
3. The Best Flooring for Your Lifestyle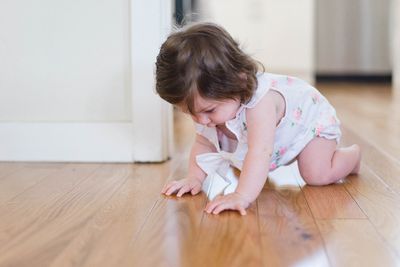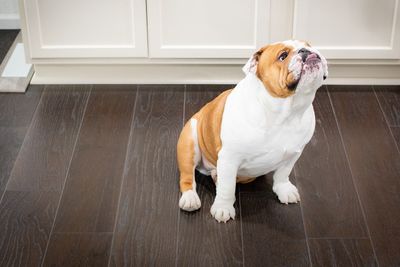 General guidelines for rooms are helpful, but specific guidelines that apply directly to your lifestyle are better. Pets, kids, allergies, or a preference for sustainable materials influences which flooring is best for you.
Which Flooring is Best for Dogs, Cats, and Other Pets?
Between bathroom accidents, fur, and claws, pets add more wear to a floor. As much, we advise against carpet since fur, dander, and accidents are hard to completely remove. Hardwood floors are ideal, so long as you select a hardwood over a softwood. Hardwoods don't scratch or dent as easily and accidents aren't as likely to soak into the wood grain, increasing the chance of additional accidents. Walnut, hickory, or bamboo are all great options for cats and dogs. Fur is easy to sweep away and any accidents can easily be wiped up with floor cleaner and a cloth.
Tile and LVT are both viable options as well. For tile, choose options with more texture to them to provide more traction for your four-legged friend. For LVT, make sure you choose a FloorScore Certified floor, providing a safer floor for your pets.


Which Flooring is Best for Families and Kids?
Kids bring a rush of energy to a home, and this means spilled drinks, uncapped markers on the floor, and running around in mud-covered shoes. To combat stains, flooring needs to be easy to clean and durable. Here's how each type of flooring works in a home with children:
While LVT and laminate are very durable and very easy to clean, they do emit VOCs (volatile organic compounds found in the adhesives), so make sure to go with FloorScore Certified floors, as this seal tells you the floors have been independently tested to comply with indoor air quality criteria.
Hardwood is durable, easy to clean, and lasts for decades. Just make sure to clean up messes sooner rather than later to prevent stains or water damage.
Laminate is an affordable option, but be sure to choose one with an AC2 or AC3 rating to provide the most value and durability.
Tile works well since it lasts for decades, but they can easily crack or shatter when the kids decide to drop every pan you own. However, you can replace broken tiles more easily than having to replace other types of flooring. Choose one with traction to avoid slipping or add area rugs.
Carpet tiles are the best choice for kids' bedrooms and playrooms. They're easy to install, easy to replace, and easy to to combine multiple styles to create fun patterns.
Best Flooring for Homeowners with Allergies
Dust, dander, and pollen seem to get everywhere. All that gunk settles into carpets, so we recommend going with flooring that doesn't trap allergens. Our top recommendation is hardwood Because it's a natural, organic material. Tile, laminate, and LVT are not as completely organic as hardwood, but they also work well to minimize allergens.
Which Flooring is Best for a Sustainable Lifestyle?
With finite resources, sustainability and renewable resources are important. Our top recommendation is to go with a bamboo hardwood floor and use natural finishes. Bamboo grows very quickly. Faster than other hardwoods by a large margin. As such, it's far more sustainable to harvest.
If bamboo doesn't fit your aesthetic or your budget, choosing engineered hardwood over solid hardwood is the more sustainable choice because it uses half as much wood as solid wood floors.
If you're choosing laminate flooring, look for products made from a high percentage of recycled materials. For example, our Mannington Laminate floors are made from recycled materials.
4. Find the Best Floors for Your Home
Now that you know the pros and the cons of each flooring type, you can find the best fit for your home and lifestyle. Browse our collections or get in touch with one of our design experts with any questions you may have. Give us a call at 1-855-483-2629 or email us. We look forward to hearing from you!