Personalize Your Floors with Peel and Stick Carpet Tiles
Discover the budget-friendly, versatile alternative to traditional wall-to-wall carpet
By Mikael Short
October 12, 2021
Peel and Stick Carpet Tiles Vs. Traditional Carpet
While peel and stick carpet squares are growing in popularity, it may help to know how they compare to traditional carpet.
Pros
Budget-friendly
Easy, DIY-friendly installation
Easy (and more cost-effective) to maintain
Customizable
Less wasted product
Cons
Can leave seams
Fewer available styles
Less padding underfoot
Carpet tiles are small squares of carpet sold in modular packs that can be easily installed in a multitude of designs. They may have come in fewer styles in the past, but carpet tiles are seeing an upswing in popularity. Today, there are more styles than ever.
Adhesive carpet tiles come with the backing attached, so all you have to do is peel off the sticky film and then attach the planks to a dry, clean subfloor. Because carpet tiles are pre-backed, they are often thinner and less plush than broadloom carpet.
When all is said and done, carpet tiles are much quicker and easier to install than broadloom carpet. In addition, compared to wall-to-wall carpet rolls, carpet tiles require less cutting, so there's also less waste.
People who invest in carpet tiles often order extra for future tile replacements and repairs when needed. If a section of your carpet tile flooring is irreparably damaged or stained, you can simply replace that small portion of the carpet instead of pulling up the whole room's flooring. For this reason, peel and stick carpet tile is considered a more pet-friendly flooring option than traditional carpet.
Know that carpet tiles may leave unsightly visible seams. To reduce the chances of seams with tiles of the same design, lay the tiles facing in the same direction. You could also install tiles of different colors or styles to create a unique carpet design.
Intrigued? Check out the following carpet tile swatches and samples, or browse other patterns at Vevano.com.
Traditional Wall-to-Wall Carpet
Traditional broadloom carpet, also known as tufted carpet, is available in a wide variety of colors and styles. Traditional carpet comes in large 12- to 15-foot uniform rolls, sometimes called "wall to wall carpet," and once it's cut up to fit the space, you could see up to 25 percent of the wasted product.
While cost-effective upfront, broadloom carpet has a more involved installation, so it takes longer to get done. Unlike carpet tile, traditional carpet must be installed on top of carpet padding. Though more costly, carpet padding creates a more comfortable feel underfoot while also covering up any imperfections in the subfloor.
The perk to broadloom carpet is that it provides a seamless pattern or color throughout a room. The downside is that it lacks the flexibility and customization available with carpet squares.
How to Install Peel and Stick Carpet Tile
Peel and stick carpet is super easy to install. Here's how you do it:
1. Prepare the space. Sweep up the floor you plan to redesign with carpet tiles. The floor must be clean and dry before you apply the tiles so they can stick properly.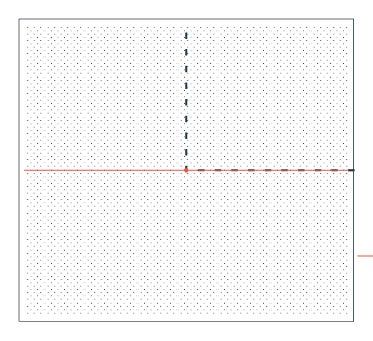 2. Measure the room. Get the tape measure so you know your dimensions. Find the center of the room first because that's where you'll begin laying tiles!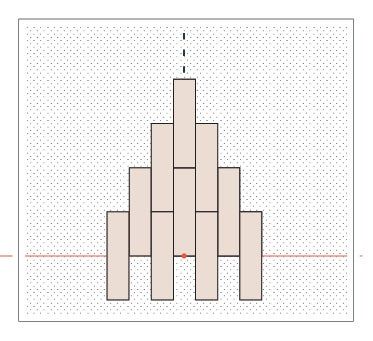 3. Lay out the carpet tiles. Place the tiles on the floor to plan how the carpet squares will be oriented. Start in the middle and work your way out, matching the direction of the arrows on the bottom of the planks. Don't stick them yet! If your dimensions are correct, starting in the center of the room ensures your tiles will lay symmetrically.
4. Attach the tiles and cut where needed. Peel away the adhesive strip and start to stick your carpet squares to the floor, starting in the middle and working your way out. Using a straight edge tool and carpet knife (don't forget protective gloves!), you can cut tiles as you need to fit your space. If you need to cut, cut from the fluffy side.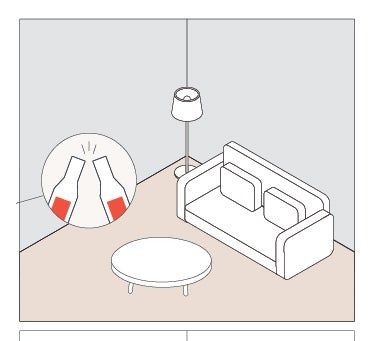 5. Vacuum and enjoy! After sticking the tiles to the floor, vacuum up the floor (yes, the tiles will stay in place). This will help clean up but also reduce seams by blending the fibers of the squares together.
This is a great DIY project to jazz up your floors. You can add peel and stick carpet squares in a wall-to-wall install or create a custom rug to distinguish areas of the room and add warmth.
How to Care for Carpet Tiles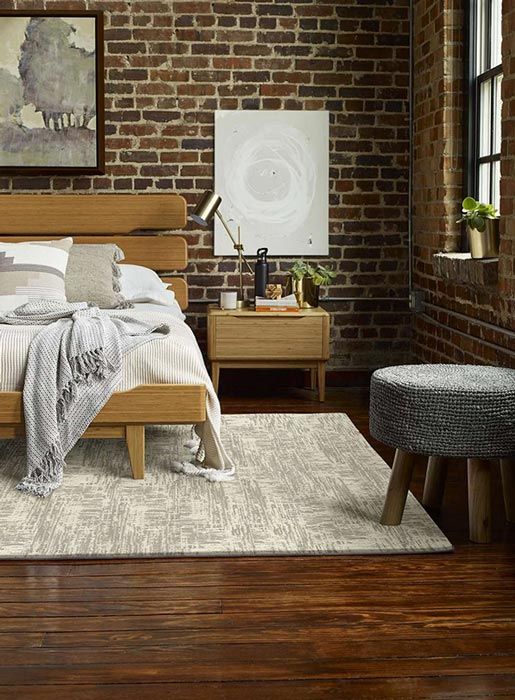 Get Creative with Floorigami
One company changing the carpet game with peel and stick carpet is Shaw Floorigami. Floorigami is carpet made to show off your personality!
Their carpet planks are made with the DIYer in mind, allowing you to unleash your creativity with your carpeting. Floorigami carpet tiles are very flexible, available in many colors and styles, so you can mix and match tiles to create your own kind of floor.
Floorigami's adhesive carpet squares are easy to install, easy to clean, and easy to replace—whether it's for a repair or you're ready for a new floor design. Not only that, but Floorigami carpet tiles are also resistant to stains, mold, and mildew. If a carpet plank gets dirty, give it a quick shower in your sink and reattach it (no soaking them in a bath, however).
The joy of Floorigami and other adhesive peel and stick carpet squares is that they are permanent only until you don't want them to be anymore. The adhesive strip on the carpet tiles is strong enough to hold it in place but gentle enough that it won't damage the subfloor beneath when you peel them off. You can create a new look anytime you want!
Customize Your Floors with Carpet Tiles!
With the growing popularity of carpet tiles, more and more designs are becoming available to change up the flooring in your home. Floorigami is one such carpet tile brand seeking to make life easier for DIYers so they can change and upgrade the floors in their home into a softer, more personalized carpeted look.
Seeking to get creative with your carpet? Browse our selection of high-quality affordable carpet tiles!