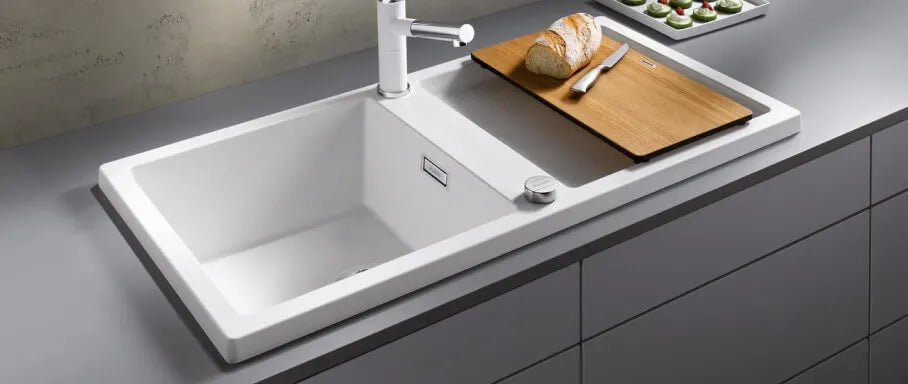 Stylish Sinks for Your Home
Freshen Up
Find a sink to suit your aesthetic whether in the kitchen or master bathroom. 
Shop Now
Shop By
What type of Sink are You Looking For?
With various styles and materials available for sinks, we want to give you a quick overview of the types you'll find at Vevano Home.
Contact us via chat or send an email to design@vevano.com with any questions you may have. 
Include farmhouse (also known as apron), drop-in, undermount, single basin, double basin, and commercial style sinks. We also carry a selection of garbage disposals and accessories. 
Include undermount, drop-in, vessel sink, pedestal style, wall mount, integrated, console, and accessories. 
Include undermount, drop-in, apron style, single basin, double basin, freestanding, wall mount, and accessories. 
Wondering which sink style is the best fit for you? Here's a quick run-down of the styles we carry. 
Undermount – This means countertop is on top of the sink, instead of the sink being placed on top on the counter. It allows for easy cleanup and maintenance. 
Drop-in Mount – This style is placed in the cutout for the sink, with the edges overlapping on top of the counter.
Farmhouse – Also known as apron sinks, this style features an exposed front of the sink with room to lean directly over the sink.
Single Basin – This refers sinks that have one basin, or bowl. It provides a larger area to wash dishes.
Double Basin – Instead of a single large bowl, double basins divide the sink into two compartments.
Commercial – Commercial sinks are rated for the increased use a commercial area would give, ideal for maximum durability.
Vessel – A vessel sink is a large bowl that sits on top of the countertop, instead of within it. It's designed to be used with a vessel faucet.
Pedestal – A pedestal sink is the sink basin as well as the pedestal together, typically mounted to a wall.
Wall Mount – These are mounted directly to the wall, freeing up floor space below.
Integrated – Integrated means the sink is made from the same material as the countertop for a seamless transition.
Console –This style is mounted to the wall or freestanding, available with two legs or four legs for additional support.
Freestanding –This type stands on its own, not requiring additional support like the console does.